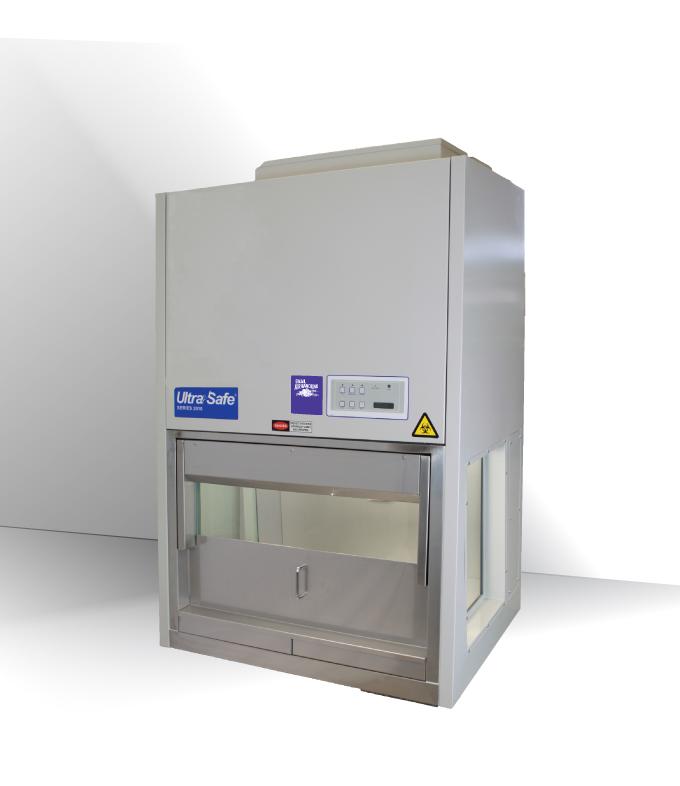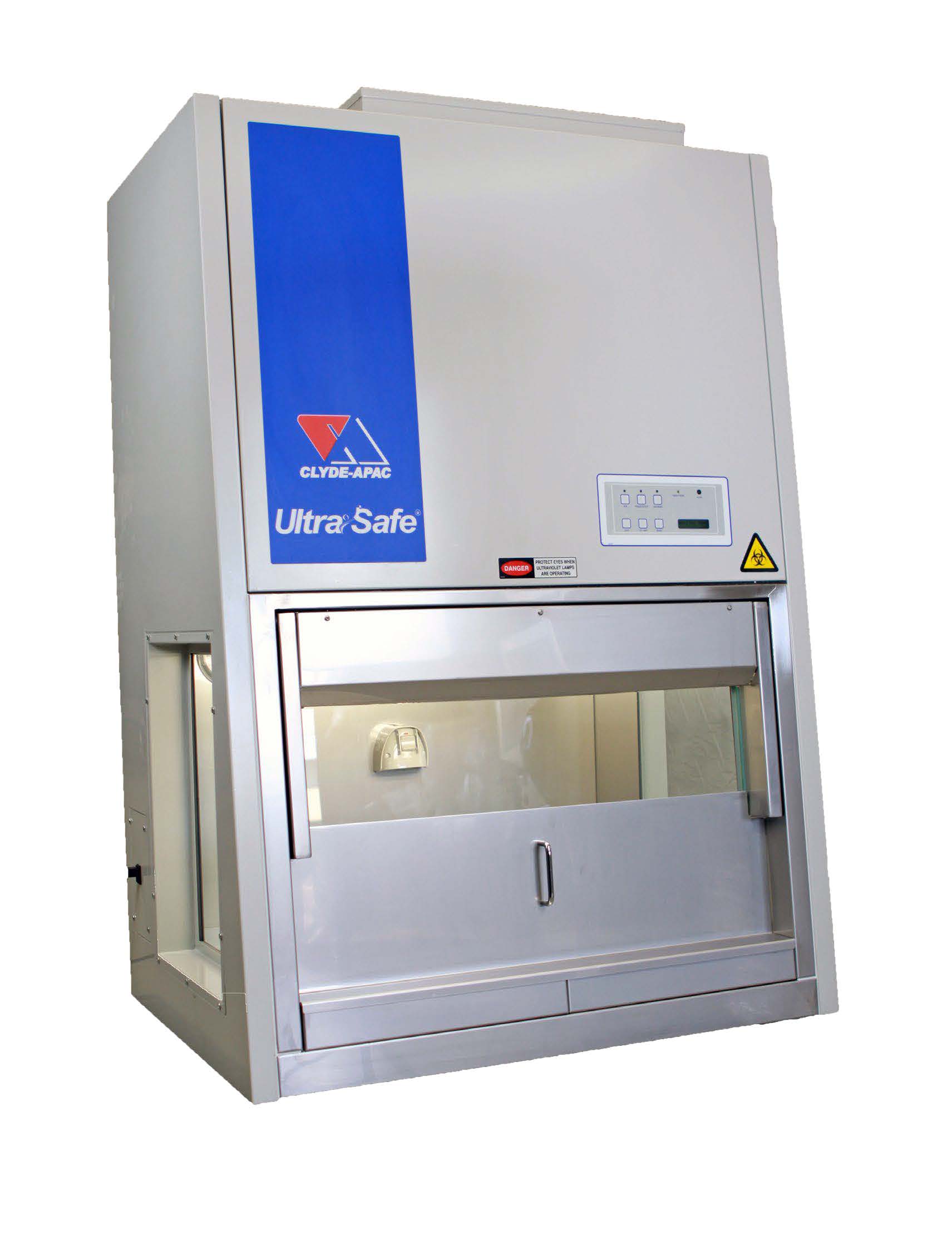 Ultrasafe Class II Biological Safety Cabinets
Ultrasafe
The Australian Made Ultrasafe Class II Biological Safety Cabinet features an ergonomically-designed operating window that slants away from the operator. A feature which greatly enhances the ease of use without compromising the clean integrity of the work zone. Add to this a wide range of accessories, and the proven reliability of the Email and Clyde-Apac brands and the Ultrasafe represents excellent value for money in the Laminar Flow market.
Overview
Ultrasafe cabinets use digital technology to maintain constant airflow during normal filter loading or temporary airflow obstruction from foreign objects. Pressure sensor monitoring ensures safe and uniform airflow across the entire work surface of the cabinet. Independent alarm systems immediately alert the user to any airflow obstruction.
An air barrier across the work access opening into the sump reduces potential risks to personnel from airborne contaminants in the work zone. In Class II models, the airflows mix in the sump before recirculation via a return air plenum to the top housing. Exhaust air is passed through a HEPA filter for return to the laboratory. Separate fan/filter arrangements allow independent adjustment to maintain an effective air barrier. A microprocessor is used to control the speed of the blower motors. This microprocessor also allows fingertip control of functions and status, including cabinet performance, current status and boost mode.
The functions of the cabinet are simply controlled by low-voltage electronic touch controls with an easy-to-read digital display. The transparent side UV-resistant safety glass maximises light and visibility inside the cabinet, providing a bright and open working environment.
User discomfort and ergonomic hazards associated with traditional BSCs include working in a static, extended posture, limited visibility at the sight line and lack of knee/leg space under the cabinet. The new Ultrasafe cabinet is designed with a sloping front, work tray options and an electric height-adjustable stand to offer significantly improved ergonomics compared to a traditional cabinet.
The comfortable 200mm front working aperture on the Ultrasafe does not compromise safety or sample containment while significantly reducing noise level. All our cabinets have been tested at nominal airflow velocities for added security.
A dual fan design is for guaranteed safety. If one fan fails, minimal protection is still maintained with only one fan running.
Independent H14 HEPA supply and exhaust filters provide 99.995% typical efficiency for particle sizes of 0.1 to 0.3 microns. A backup battery maintains an alarm function for airflow, power and pressure alarm in the event of a power failure.
Scratch-free, high-quality stainless steel work surfaces are available as single or segmented modules and are easy to clean or autoclave. The indented work modules easily trap spilled liquids.
Accessories & Options
Service taps (air, CO2, etc.)
Vacuum tap (disc filter holder)
Extra power outlet (1 x power outlet supplied as a standard feature)
Decontamination panel
Floor stand, semi-adjustable (height to order)
Electronically-controlled, height-adjustable floor stand
Gas tap (solenoid-interlocked)
Front, Top, Left or Right Exhaust options are available
Technical Data
Brand

AES Environmental

Models Available

Three

Sizes

900mm/1200mm/1800mm

Electrical

2A/230V

Filter Type

HEPA

Complies With

AS 2252.2
Support
At Thermoline, we strive to supply helpful customer support to ensure that you get the most out of our products. We are committed to providing whatever support our customers need, wherever they are in the world. If you can't find your solution in the below FAQs or Knowledge Base, please contact our friendly support team.
What is a Class 2 Biological safety cabinet?

A Class 2 Biological Safety Cabinet (BSC) is a type of laboratory equipment used to protect the user, the sample, and the environment from exposure to biological materials that may be hazardous. Class 2 BSCs are designed to provide a barrier between the user and the sample and to contain any accidental releases or spills.

Biological safety cabinets are the primary barrier against exposure to aerosols that may be produced from common microbiology procedures. Room air is drawn in through the front grill of the cabinet and is developed for sterile material handling.

Class 2 BSCs are designed for use with low-risk biological materials, such as bacteria or viruses that are not highly infectious or dangerous. They use a combination of physical and airflow barriers to provide a controlled environment for handling biological materials.

What Australian Standards do I need to know for the installation and maintenance of a Class II BSC?

AS 2252.4 - 2010: Controlled environments Part 4: Biological safety cabinets Class I and II – Installation and use. This Standard is an excellent source of reference when looking to organise BSC installation in the laboratory. AS 2252.2 – 2009: Controlled environments Part 2: Biological safety cabinets Class II – Design. The Standard states that periodic critical performance tests of the cabinet shall be conducted at least annually and on any change to cabinet position and function.

Where are the clean air cabinets supplied by Thermoline manufactured?

All of the cabinets we supply are Australian Made by AES Environmental. AES has several manufacturing locations in Australia, and all of the Laminar Flow and High-Efficiency Filtration products are produced in their Minto, NSW facility.

Can Thermoline arrange installation and commissioning of my cabinet?

Yes. Our suppliers have service divisions in most Australian states and territories and relies on qualified partners for other geographical locations. Each team is capable of providing on-site installation and NATA certification.