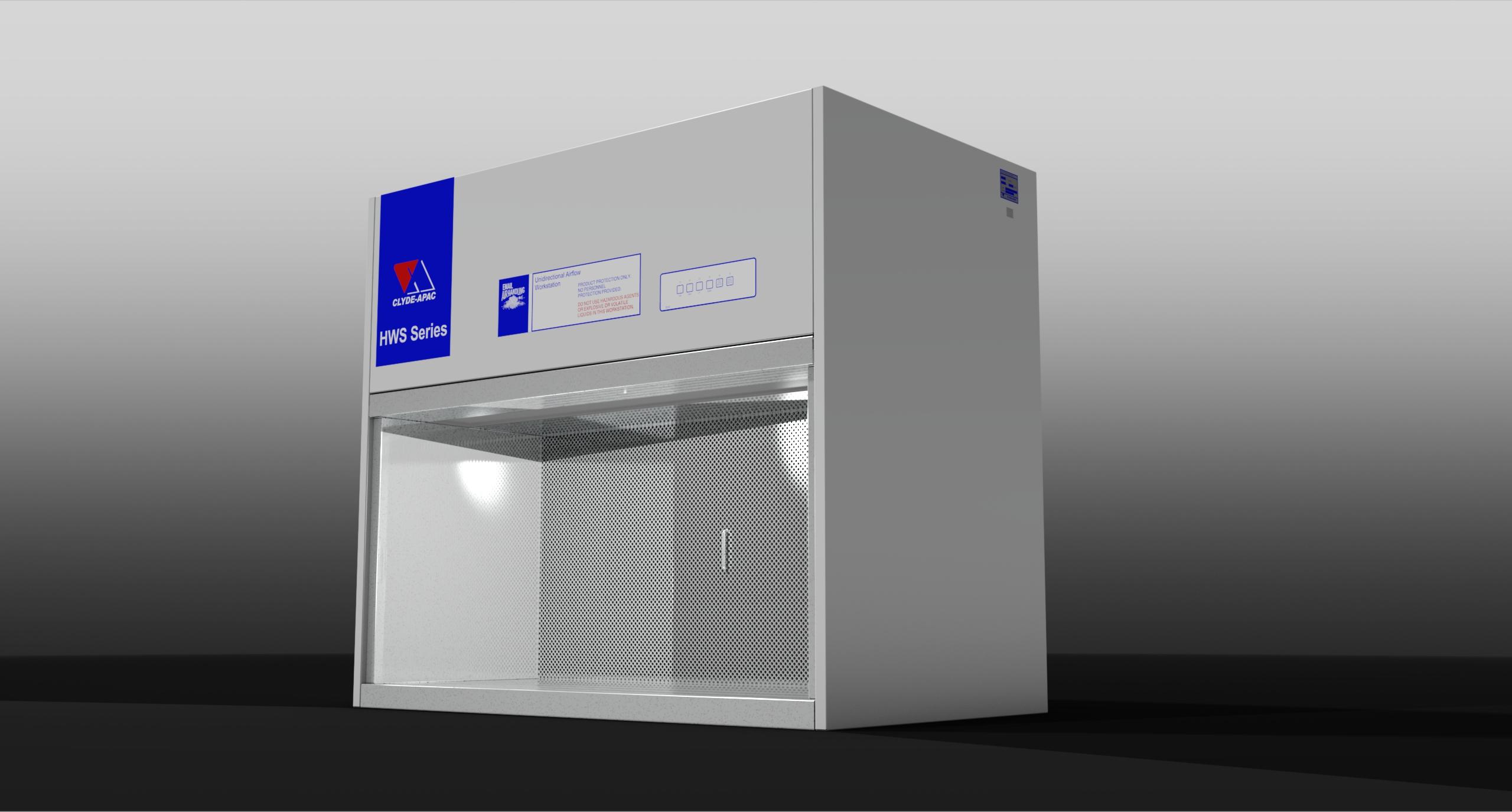 Horizontal Laminar Flow Cabinets
HWS
The Australian Made HWS (Horizontal-flow) Laminar Flow Series cabinets are designed to provide a high degree of protection for process products and apparatus in laboratory and production facilities. Many critical applications in the medical, pharmaceutical, scientific and electronics fields demand an ultra-clean work environment that is free from biological and particulate contamination.
Overview
In the HWS series, air is passed through the work zone in a smooth, horizontal direction, and the blower fan and mounting position are designed to maximise airflow. The deeper rear plenum ensures unobstructed airflow to the HEPA filter face. As a result, the cabinet is quieter, with reduced vibration and longer service life for the HEPA filter.
The cabinet housing is constructed of locally sourced steel and consists of a high-quality powder-coated finish to provide a suitably solvent, alkali and acid-resistant laboratory-grade coating. The work area is fully constructed from stainless steel, with inward folds to avoid sharp edges. A removable, washable metal screen protects the HEPA filter from mechanical damage.
A direct-drive fan is regulated by a speed controller to enable airflow to be maintained through filter life. Fans and filter plenums are designed to provide quiet operation and low vibration levels.
Clyde-Apac Microseal HEPA filters are manufactured to AS 4260. Each filter is individually tested to be leak-free in accordance with AS 1807.6. A manufacturer-endorsed test label fitted with an extract of the test report is affixed to each filter. A prefilter extends the life of the exhaust HEPA filter and protects it from mechanical damage during the cleaning of the work zone.
An easily-accessed, washable pre filter arrests not less than 90% of particles 5 microns and larger, thus prolonging HEPA filter life. A warning light in the control panel signals the need for pre filter service.
A low-voltage touch control panel is located on the front of the cabinet. Glare-free lamps provide a minimum lighting intensity of min 650 lux at the work floor.
HWS cabinets provide protection for products or experiments, but do not protect personnel from aerosols of hazardous materials that may be handled in the cabinet. For applications where personnel and environmental protection is required, Clyde- Apac Class I or Class II biological safety cabinets, or cytotoxic drug safety cabinets (as applicable) should be considered.
Typical applications include: Aseptic dispensing, Assembly of electronics and optics components, Cell culturing, Media pouring, Preparation of medical devices and Sterility testing. HWS Series Laminar Flow cabinets are intended for work with non-hazardous materials in such applications.
Technical Data
Brand

AES Environmental

Models Available

Five

Sizes

900mm/1200mm/1800mm

Electrical

2A/230V

Filter Type

HEPA

Complies With

AS 2252.6
Support
At Thermoline, we strive to supply helpful customer support to ensure that you get the most out of our products. We are committed to providing whatever support our customers need, wherever they are in the world. If you can't find your solution in the below FAQs or Knowledge Base, please contact our friendly support team.
Where are the clean air cabinets supplied by Thermoline manufactured?

All of the cabinets we supply are Australian Made by AES Environmental. AES has several manufacturing locations in Australia, and all of the Laminar Flow and High-Efficiency Filtration products are produced in their Minto, NSW facility.

What is a laminar flow cabinet used for?

A laminar flow cabinet keeps a controlled work surface for applications requiring a sterile work space whereas contaminant access is being prevented by a constant filtered airflow across the surface.

Why might a UV light be used in laminar flow cabinets?

A UV light (ultraviolet light) can be used in a laminar flow cabinet for decontamination purposes. UV light has the ability to kill a variety of microorganisms, including bacteria, viruses, and fungi, by disrupting their DNA or RNA.

In a laboratory setting, a UV light can be used in a laminar flow cabinet to reduce the risk of contamination of samples or equipment. This is particularly useful in sensitive experiments, such as cell cultures or microbiological assays, where even a small amount of contamination can cause significant problems.

Can Thermoline arrange installation and commissioning of my cabinet?

Yes. Our suppliers have service divisions in most Australian states and territories and relies on qualified partners for other geographical locations. Each team is capable of providing on-site installation and NATA certification.