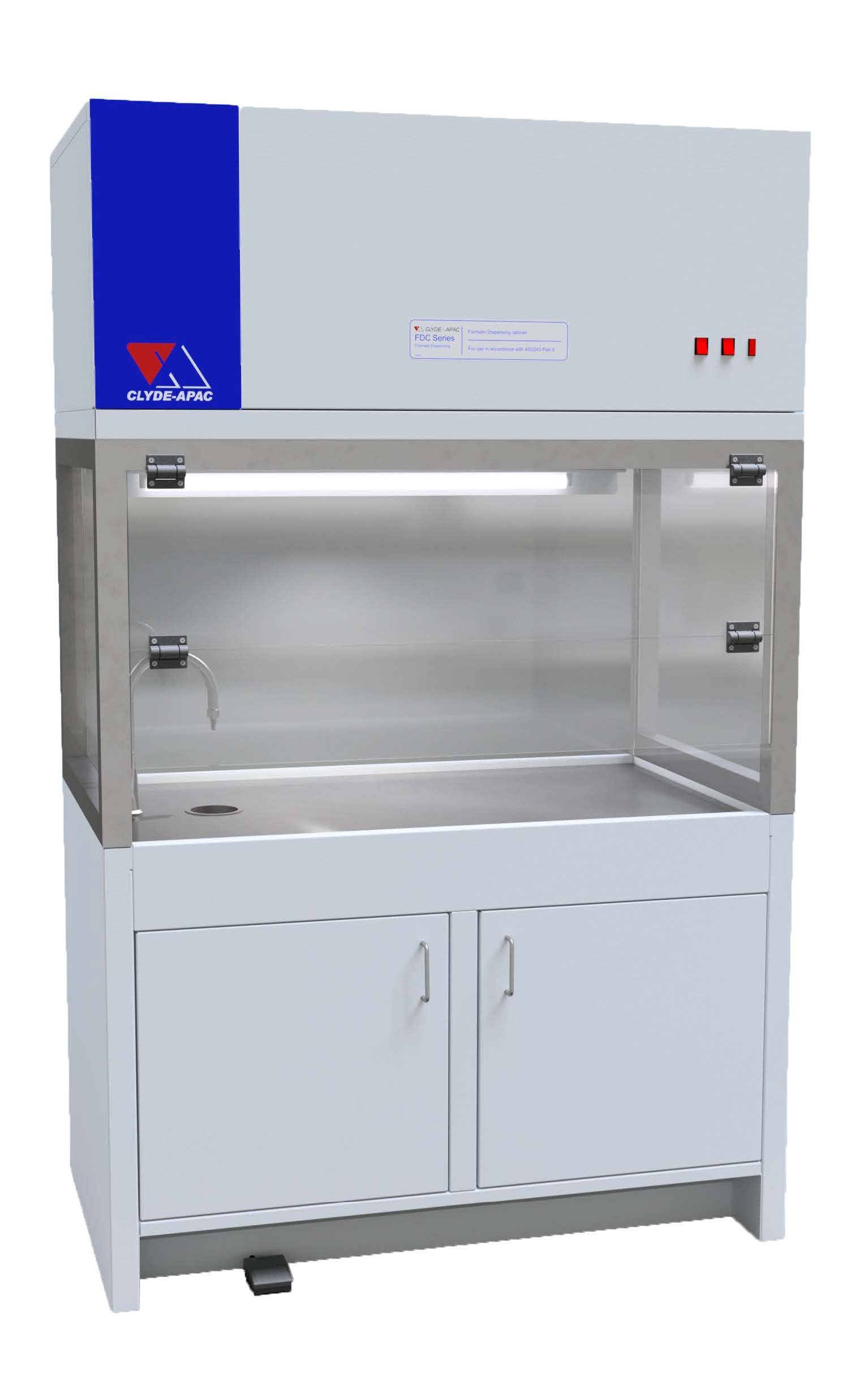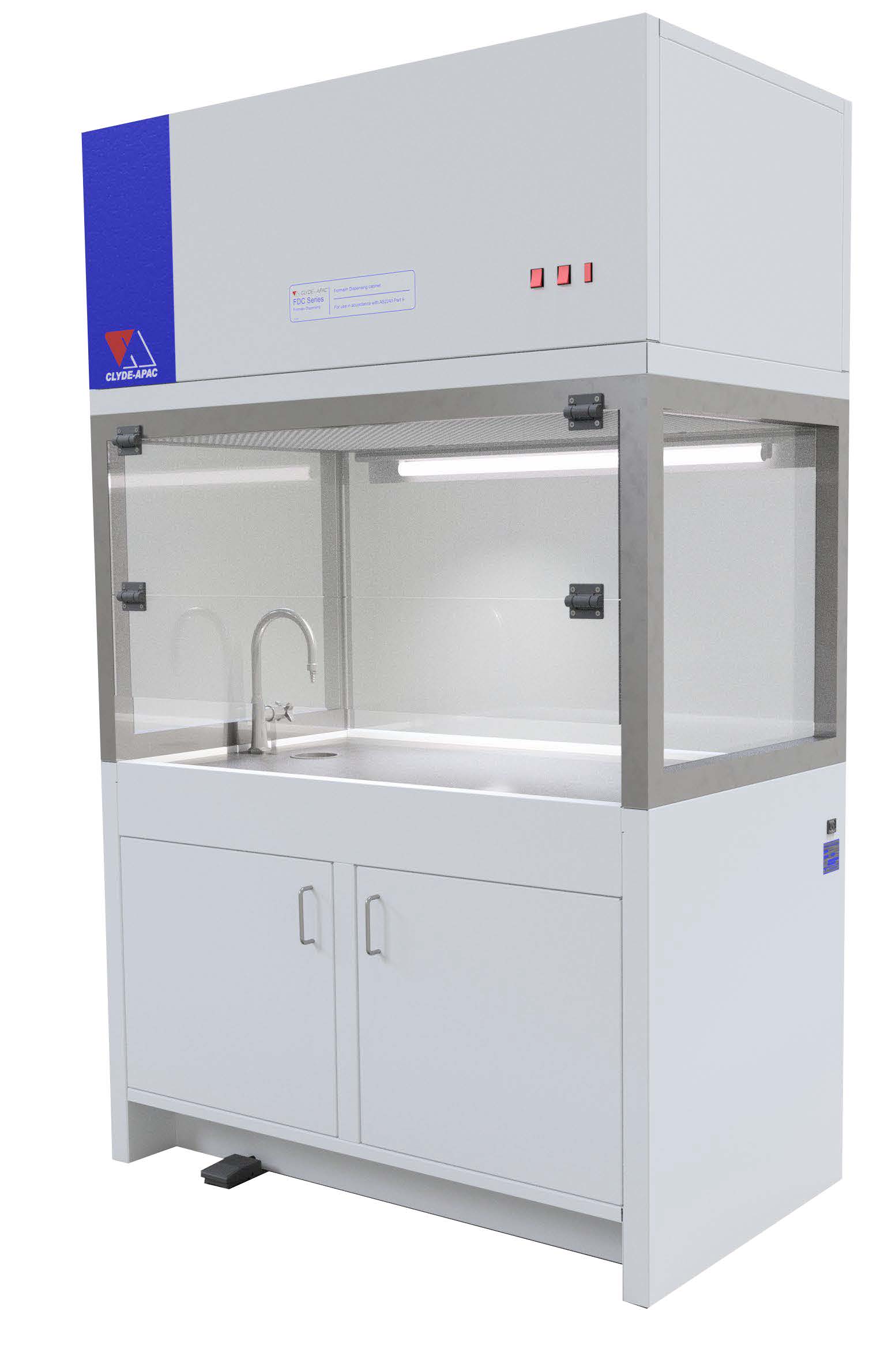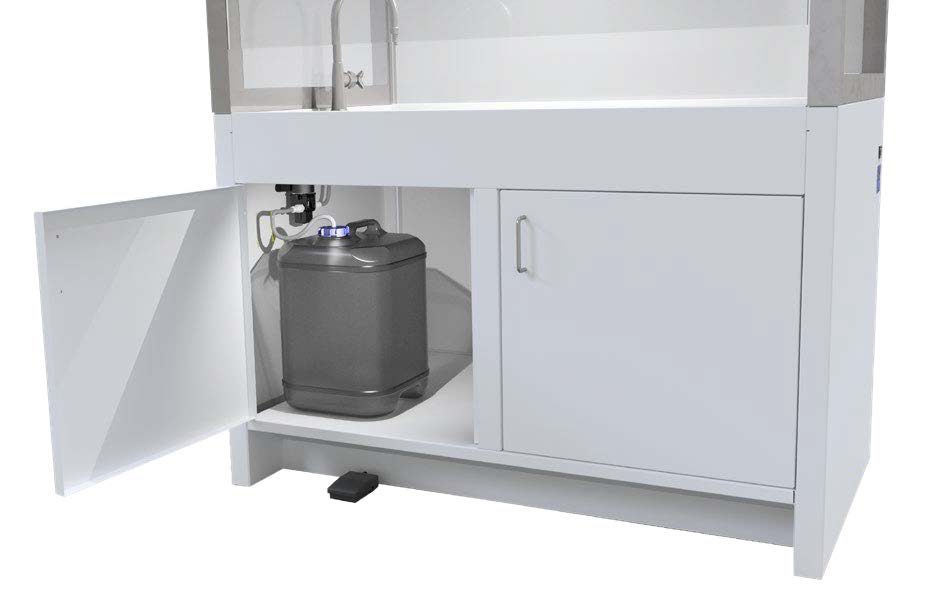 Formalin Dispensing Fume Cabinet
FDC
The Australian Made FDC multi-dispensing fume hood is a compact, recirculating fume cabinet that has been designed to provide operator safety and ease of use in laboratory applications. Capture of fumes is achieved by inward airflow at a velocity of > 0.5 m/s and HEPA filtration of exhaust air.
Overview
The FDC multi-dispensing fume cabinet comes at a nominal size of 800mm width and a depth of 800mm. These cabinets are fitted with a deep pan sump to capture and control spillage during dispensing. The roomy built-in storage below the sump enables storage for the containment of chemicals in a safe and controlled manner.
The Formalin Dispensing Cabinet can be fitted with or without doors. A multi active dispensing system coupled with a simple plugin adapter to fit your bottle makes fluid decontamination a breeze, but most importantly a safe breeze for users.
The standard activated-carbon filter is suitable for use with a wide range of common laboratory fumes. Special-purpose carbon filters for specific applications are available to order.
Suitable for use with:
Formalin / Formaldehyde
Ethanol
Sterile Alcamol
Viraclen (Disinfectant)
Cavicide
Isopropylamine
Technical Data
Brand

AES Environmental

Models Available

One

Sizes

800mm

Electrical

2A/230V

Filter Type

CARBON

Complies With

AS 2243.9
Support
At Thermoline, we strive to supply helpful customer support to ensure that you get the most out of our products. We are committed to providing whatever support our customers need, wherever they are in the world. If you can't find your solution in the below FAQs or Knowledge Base, please contact our friendly support team.
Where are the clean air cabinets supplied by Thermoline manufactured?

All of the cabinets we supply are Australian Made by AES Environmental. AES has several manufacturing locations in Australia, and all of the Laminar Flow and High-Efficiency Filtration products are produced in their Minto, NSW facility.

Can Thermoline arrange installation and commissioning of my cabinet?

Yes. Our suppliers have service divisions in most Australian states and territories and relies on qualified partners for other geographical locations. Each team is capable of providing on-site installation and NATA certification.

What is a Formalin Dispensing Fume Cabinet?

A Formalin Dispensing Fume Cabinet, also known as a Formaldehyde Fume Hood, is a laboratory fume cabinet designed specifically for handling and dispensing formalin, a formaldehyde solution gas in water. Formalin is commonly used as a preservative for biological specimens and is known to be highly toxic and carcinogenic.

A Formalin Dispensing Fume Cabinet typically features:

Positive air pressure: The cabinet is designed to maintain a positive air pressure inside the cabinet to prevent contamination from entering the cabinet from the outside environment.

HEPA filtration: A high-efficiency particulate air (HEPA) filter is used in the exhaust system to remove any formalin particles that may be released into the air.

Work surface: The work surface is designed to be easy to clean and disinfect, and is typically made of a material that is resistant to chemicals and corrosives.

Access ports: Access ports or gloves are typically provided to allow the user to manipulate samples or equipment while minimizing the risk of exposure to formalin.

What is a Formalin Dispensing Fume Cabinet used for?

The primary purpose of a Formalin Dispensing Fume Cabinet is to provide a controlled environment for handling formalin, which can be harmful if it is inhaled or comes into contact with skin. A Formalin Dispensing Fume Cabinet uses a combination of physical and airflow barriers to prevent the release of formalin into the environment and to protect the user from exposure.

It is important to use a Formalin Dispensing Fume Cabinet in accordance with the manufacturer's instructions and guidelines, as well as any relevant safety regulations, to ensure effective containment of formalin and to minimize the risk of exposure to this hazardous material.