Chemical Storage
Thermoline proudly offers the STOREMASTA range of chemical storage cabinets (dangerous goods cabinets) for storing flammable liquids, oxidising agents, flammable solids, organic peroxides, toxic substances, corrosive substances and pesticides. Each chemical cabinet is manufactured in Australia using advanced manufacturing technologies for superior quality.
All chemical storage cabinets are designed in full conformance with the relevant Australian Standards. STOREMASTA chemical cabinet sizes range start from 30L including horizontal drum stores and under bench cabinets. STOREMASTA double door chemical storage cabinets have a patent sequential door closing system. This door closing system incorporates a mechanism that is deemed fail proof. Each chemical cabinet has a double walled sheet steel construction, self-closing self-latching doors, liquid tight spill containment sump, compliant dangerous goods signage, provision for venting and perforated adjustable shelving.
Dangerous goods are solids, liquids or gases that are harmful to people, the environment or property. Dangerous Goods include substances that are explosive, flammable, spontaneously combustible, oxidising, toxic, corrosive and water reactive. Some commonly used dangerous goods include petrol, solvents, paints, acids and pesticides. The most dangerous property of a corrosive substance is its ability to dissolve materials, such as metal, stone, wood and human flesh, through chemical action.
When you're working with dangerous goods, selecting, implementing and maintaining compliant storage is key for chemical compliance. As dangerous goods pose significant risks, it's vital that you store and manage them in a safe and compliant manner. Afterall, safety cabinets and outdoor chemical containers are key risk control measures that will specifically reduce the likelihood and impact of chemical hazards. The range of chemical and dangerous goods storage cabinets varies based on the unique requirements and is usually outlined in various Australian Standards but if you need assistance, please get in touch with Thermoline today.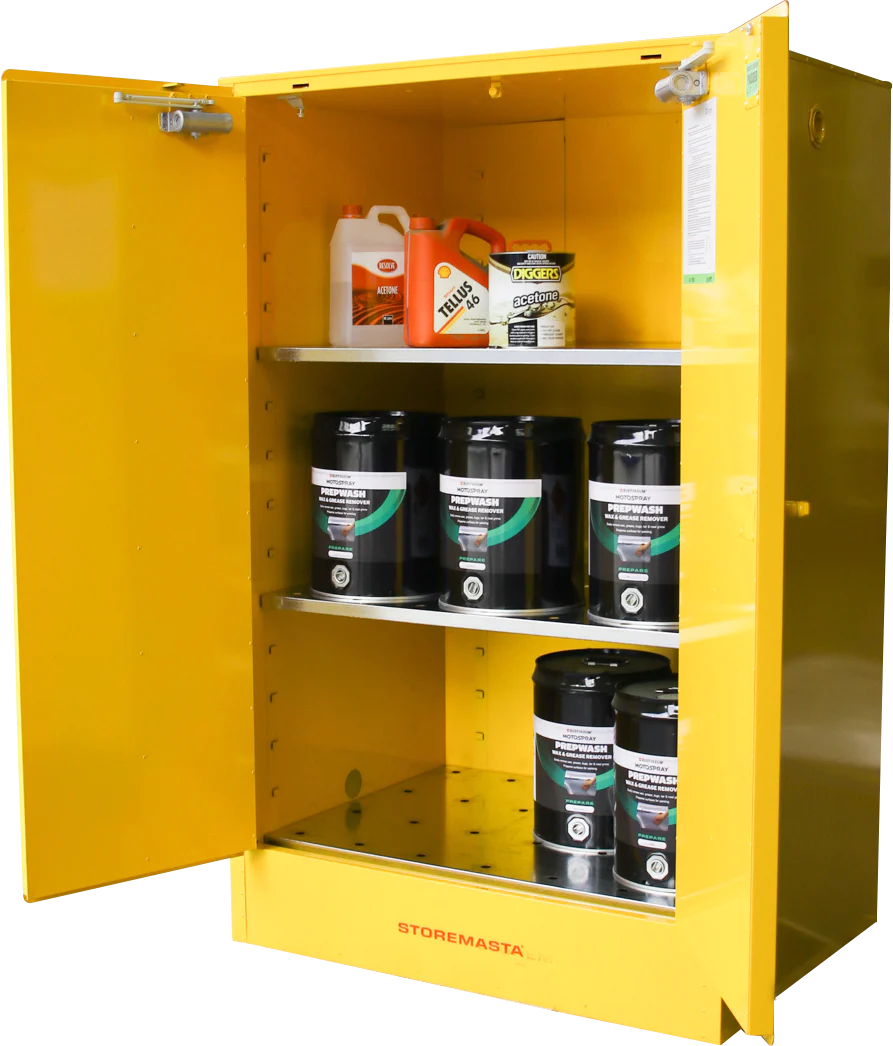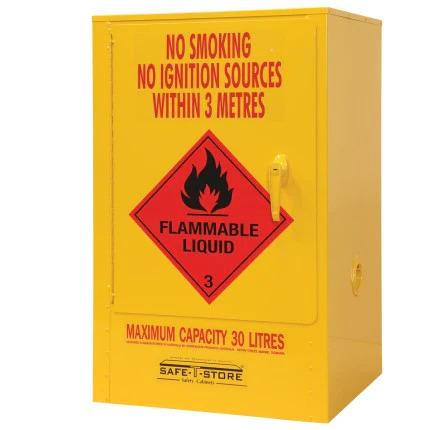 This range of heavy duty flammable safety cabinets offers a compliant, customisable storage solution for Class 3 flammable liquids. Due to the volatile nature of flammable substances, high quality flammable liquid storage cabinets are crucial for workplace safety.
Our industry leading flammable liquid cabinets adhere to Australian compliance standards to minimise risk for all industrial applications - from mining to engineering, science and defence.
Specifications
Brand: Storemasta
Capacity: 15L - 850L
Models Available: Twenty +
Electrical: N/A
Complies With: AS 1940:2017
Learn More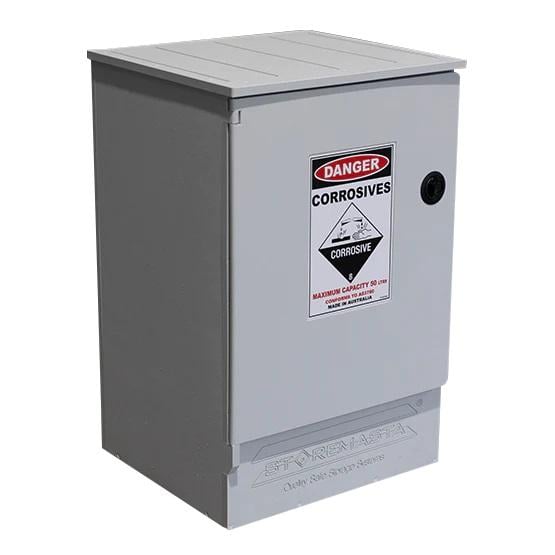 This range of high-quality, durable cabinets are for industrial corrosive storage. These are made from high-density polyethylene or High-Tech 2-Pack powder coated steel and corrosion-resistant materials to guarantee safe storage.
Our durable corrosive substance storage range is designed for indoor use for the outdoor storage of corrosive substances. All storage solutions are fully compliant with Australian standards.
Specifications
Brand: Storemasta
Capacity: 15L - 850L
Models Available: Twenty +
Electrical: N/A
Complies With: AS 3780:2008
Learn More