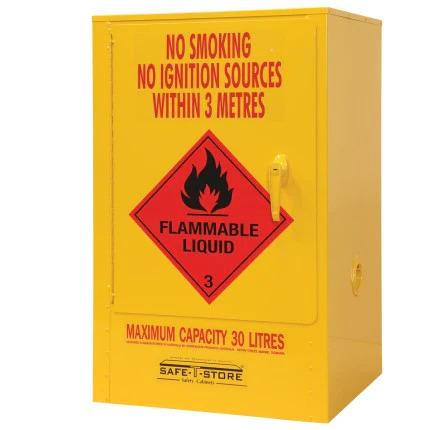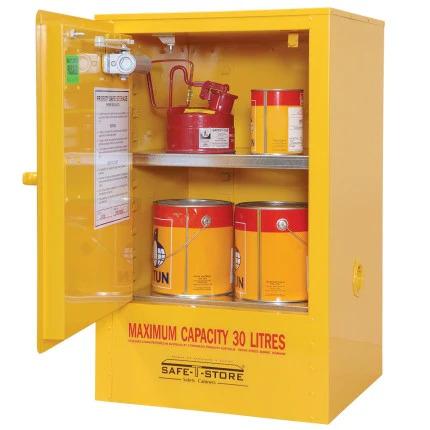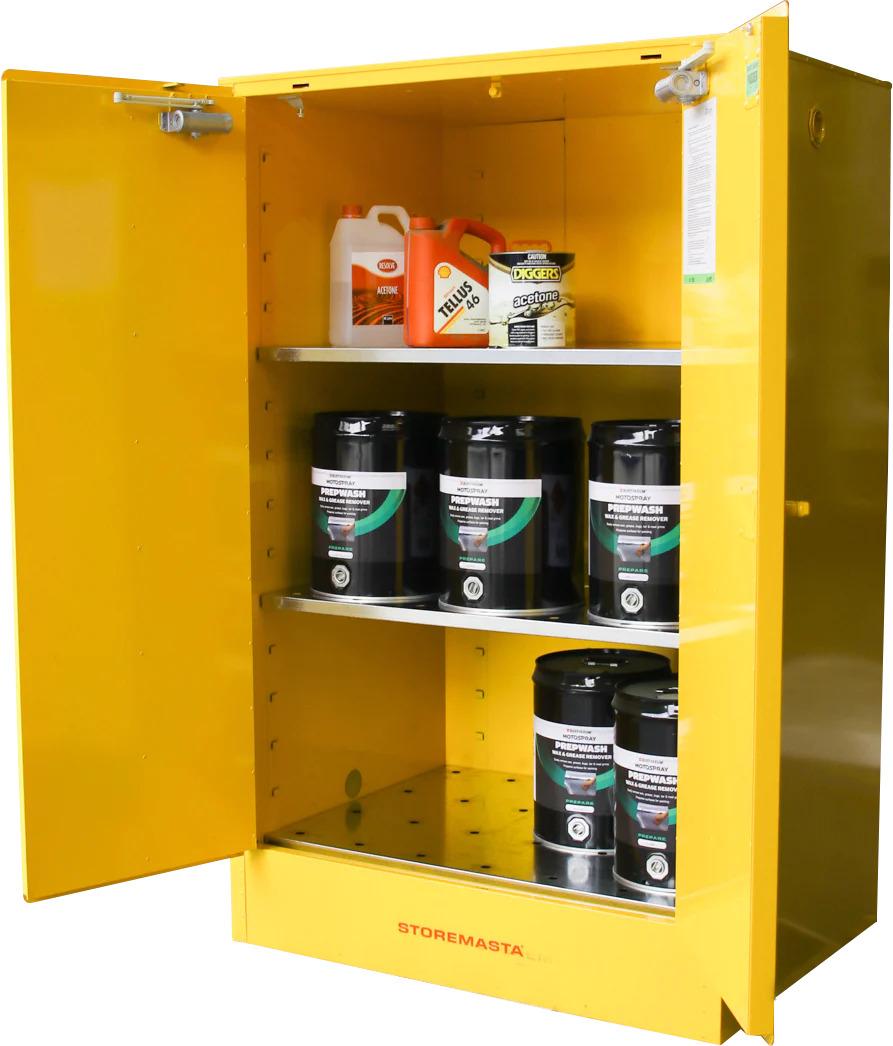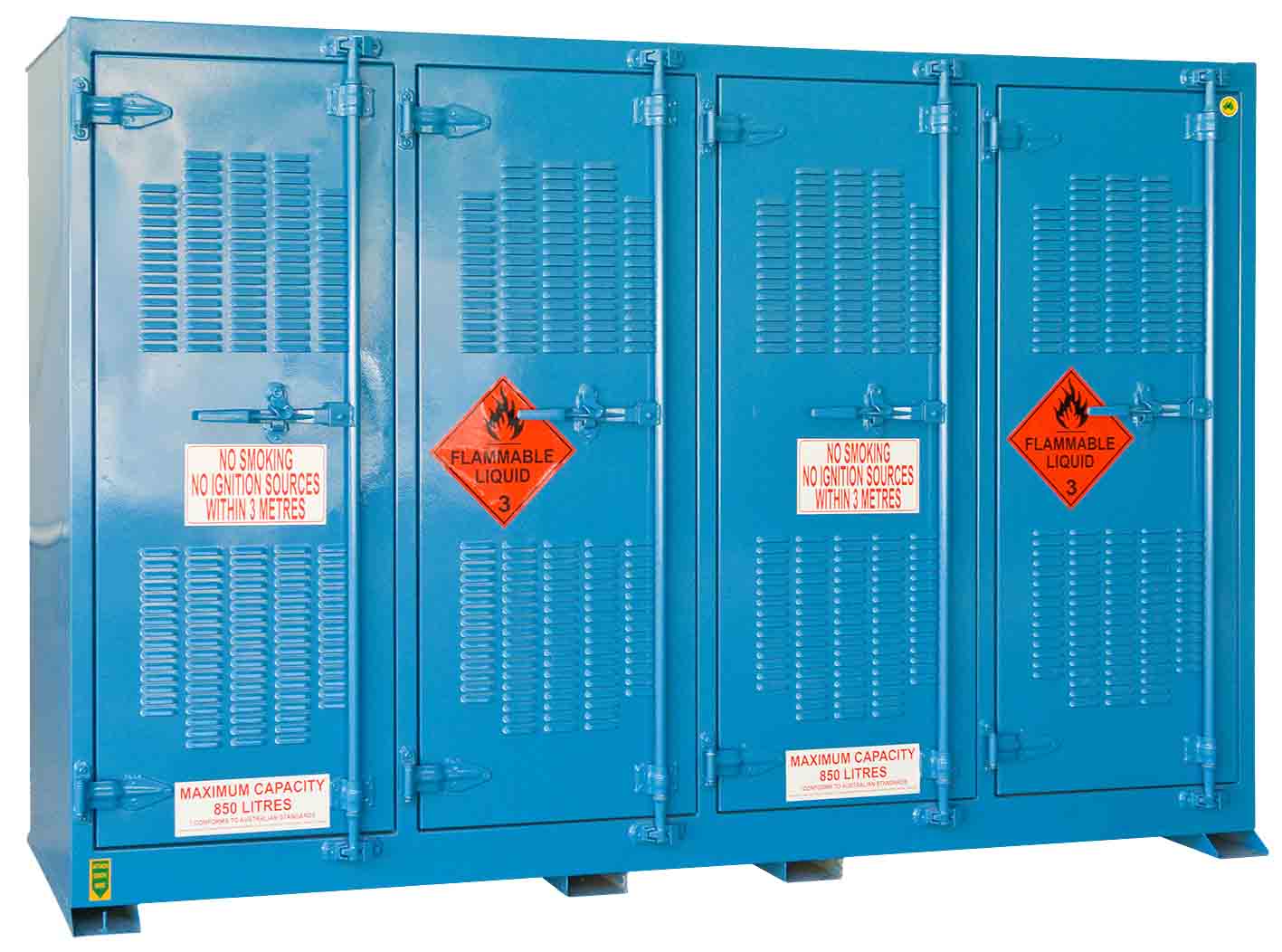 Class 3 Flammable Liquid Storage Cabinet
SC3
The Flammable Liquid Storage Cabinet range is designed to safely house Class 3 Flammable Liquids. Purpose-built models for indoor or outdoor storage, the safety cabinet range has fully adjustable shelves, a liquid-tight spill containment sump and vents compatible with your mechanical ventilation system.
Overview
These flammable cabinets are hardy and tough, thanks to the double-walled sheet steel construction, heavy-duty door, continuous hinging, and high-tech powder coat finish. The Australian Made cabinets come with compliant safety signage and warning placards for Class 3 Flammable Liquids.
Part of STOREMASTA's innovative SAFE-T-STORE series, this range is designed and manufactured in Australia in accordance with AS1940-2017.
Double walled sheet steel construction with a 40mm thermic air barrier
High capacity liquid tight sump to contain spills - 150mm deep
Self-closing, close fitting doors that latch at 2 points
Built in flash arrestors and vent openings [for mechanical ventilation systems]
Strong fully adjustable shelving perforated for free air movement, 100mm adjustment increments
Sequential door closing system
Stainless steel pin with continuous hinging for strength and reliability
State of the art powder coat finish for high durability and performance
Distinct safety signs and directions that comply with AS 1216 and AS 1319
Designed and Manufactured in full conformance to AS 1940:2017 - The storage and handling of flammable and combustible liquids
Technical Data
Brand

Storemasta

Capacity

15L - 850L

Models Available

Twenty +

Electrical

N/A

Complies With

AS 1940:2017
Support
At Thermoline, we strive to supply helpful customer support to ensure that you get the most out of our products. We are committed to providing whatever support our customers need, wherever they are in the world. If you can't find your solution in the below FAQs or Knowledge Base, please contact our friendly support team.
How and where should I store flammable liquids?

AS1940-2017 outlines a range of compliant storage solutions for flammable liquids. Due to their safe and practical design most organisations use: Safety cabinets for indoor flammable liquid storage. Relocatable, detached stores for outdoor flammable liquid storage.

The storage requirements for flammable liquids depend on whether they will be stored indoors or outdoors. Segregation of flammable liquids from other classes of chemicals, particularly corrosive substances, is vital for safe storage.

Do I need a flammable liquid storage cabinet?

If you're storing any Class 3 Flammable Liquids, you'll need specially crafted cabinets to safely and compliantly store them (as per AS1940-2017). It's quite common for workplaces to hold at least a small amount of flammable liquids on site. Even if these flammable liquids are stored in small quantities, they can easily ignite and cause significant damage. However, AS1940 states that a cabinet is not required if the quantity of flammable liquids is classified as "minor storage."

What is a flammable liquid?

A flammable liquid is a type of liquid that is easily ignitable and can burn rapidly when exposed to an ignition source. It has a low flash point and can pose a significant fire hazard if not stored, handled, and used properly.

Examples of flammable liquids include gasoline, solvents and thinners, alcohols, oil-based paints, resins, ethanol, propane, and diesel fuel. These liquids are commonly used in a variety of industrial, commercial, and household applications, and they can pose a significant fire hazard if not stored, handled, and used properly.

What is chemical storage cabinet?

A chemical storage cabinet is a specialized cabinet designed to store chemicals safely. It features shelving or drawers made of chemical-resistant materials, a tightly sealed door, and may have additional safety features such as a ventilation system, and is designed to meet specific safety and regulatory standards.