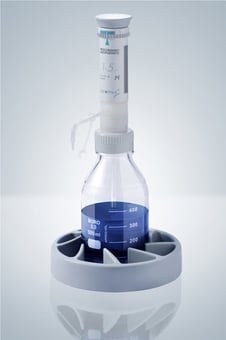 Ceramus® Pharmacy Bottle Top Dispensers are the perfect option for quick and accurate Methadone or Biodone dispensing.
The classic bottle top unit is the pharmacy choice for rapid dispensing with ultra reliable results - Ceramus® is the proven standard unit for manual dispensing. Superior-quality materials, simple handling and well-engineered user comfort make laboratory routines easier.
The graduation gauge and digital volume configuration engagement guarantee consistent precision and volume dispensing and ensure reproducible results – absolutely independent of the user. The dispensing piston made of high-purity aluminium oxide ceramic guarantees a maximum level of chemical and thermal resistance. The complete unit can be steam sterilised at 121°C without dismantling.
Ceramus® is the new industry standard for pharmacies Australia wide.
The complete unit can be steam sterilised at 121°C without dismantling
Threaded suction hose fitting
User-independent, reproducible volume dispensing
Digital volume configuration engagement, calibrated for a lifetime
Optimum chemical and thermal resistance of parts conveying medium
Individual quality certificate with conformity certificate
View our Ceramus pharmacy methadone pump range: https://www.labdirect.com.au/equipment-instruments/liquid-handling/bottle-top-dispensers/