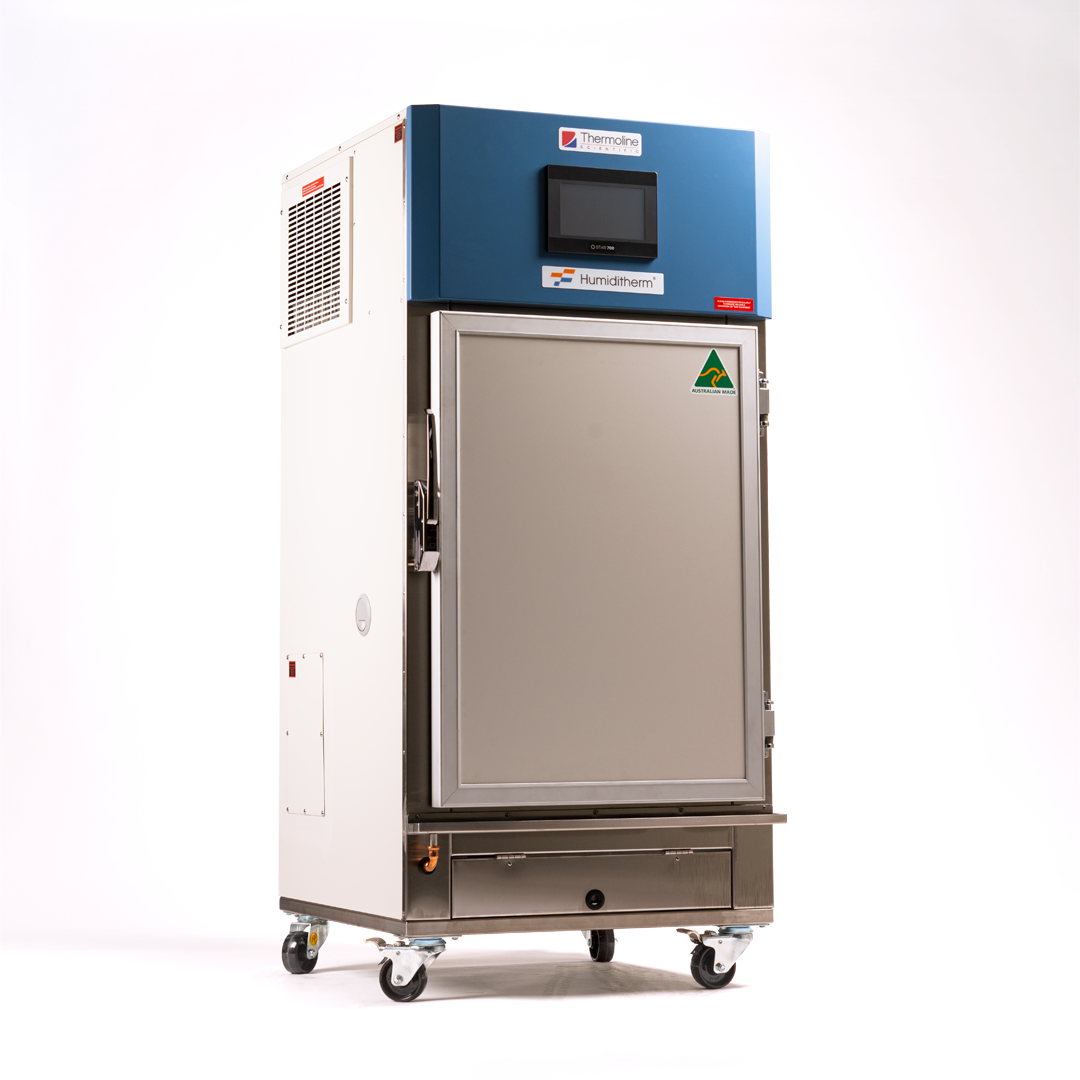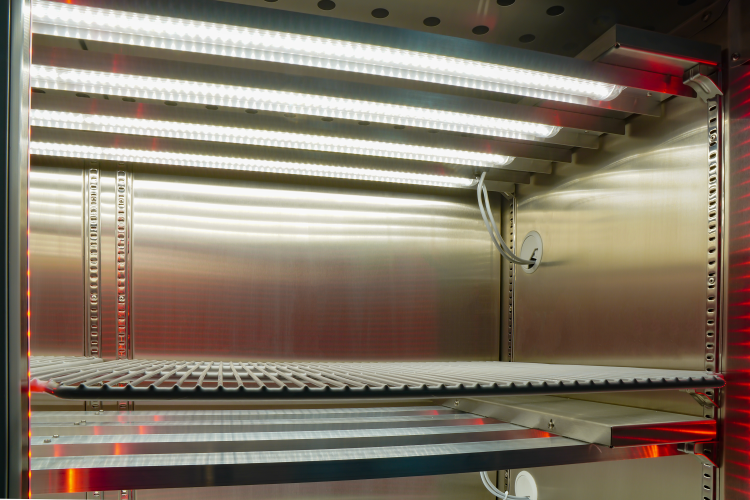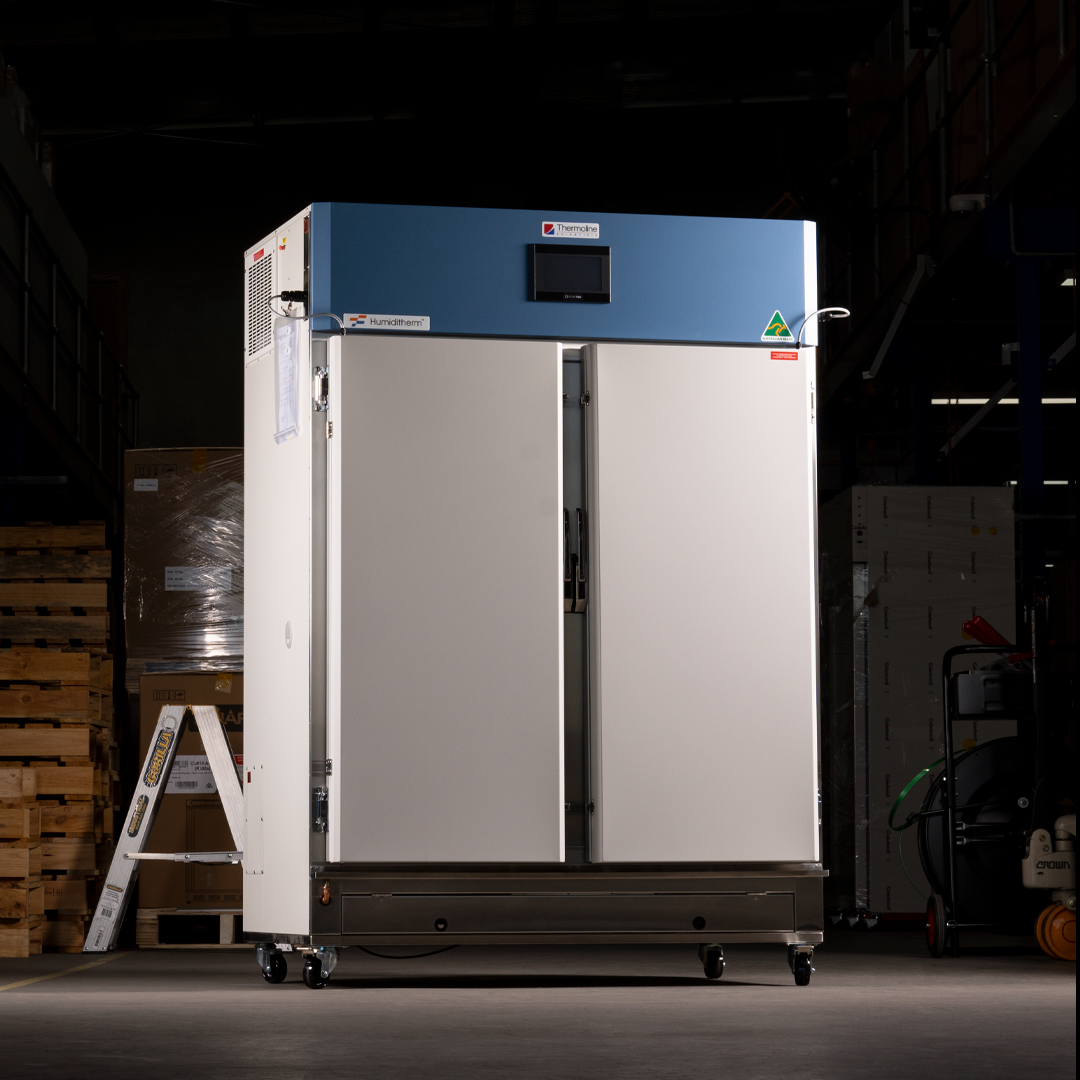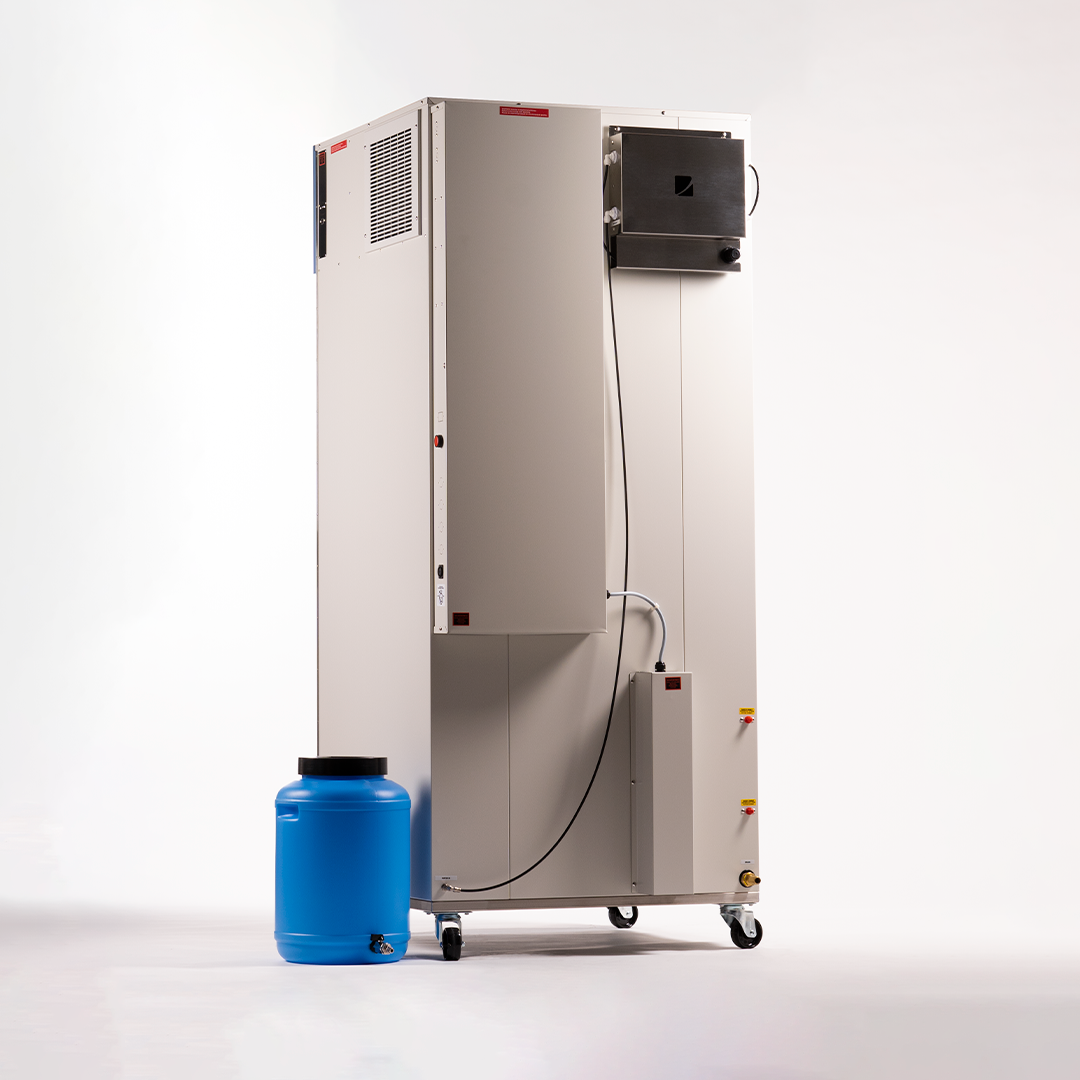 Temperature and Humidity Cabinets with Shelf Lighting
TRHSL
Our Australian Made temperature and humidity cabinets control and maintain specific temperature and humidity levels within the cabinet. The TRH range also extends to these models with high intensity LED shelf lighting.
The lighting provides additional environmental control and can be used to regulate the photoperiod, the length of the light period in the diurnal cycle of 24 hours, which is important for certain types of experiments or growth processes.
Overall, the combination of temperature, humidity, and lighting control in a single cabinet provides a convenient and efficient way to maintain specific environmental conditions for a wide range of applications.
Overview
The TRHSL has its lighting fitted to the underside of the internal shelving, providing light directly above your shelves for unobstructed, direct light.
The door lighting Humiditherm cabinets are designed to maintain conditions that are critical for a wide range of research applications where temperature, humidity and lighting need to be precisely controlled, including:
Drosophila

Entomology

Seedling germination

Plant pathology

Plant production

Tissue culture

Propagation
Humidity is generated by boiling water and creating steam without the need for ultrasonics that may disturb insects.
Three sizes of Humiditherm lighting cabinets are available, single-door 230L and 460L capacity and a double-door 850L capacity. An upward, fan-forced airflow maintains the cabinet's conditions – so your samples and research thrive in superior temperature uniformity.
A 50mm cable/monitoring porthole is located in the side wall so that you can slide through your remote measurement devices. Carbon dioxide control is optional in all sizes, so customisation is possible to suit your application and budget.
With a Colorbond exterior, stainless steel interior and shelves – these cabinets are highly corrosion-resistant and easy to clean. All cabinets are fitted with heavy-duty lockable castors to allow cabinets to be moved easily when the cabinet requires servicing or the area around the cabinet needs cleaning.
Thanks to our STAR X touchpad control system, you can easily adjust and program the temperature and humidity settings in the cabinet. The STAR X allows for the operator to synchronise programmed settings to real time and has an ethernet connectivity which, once connected, will allow the operator to perform all functions via a PC. The STAR X logs the performance of the cabinet to onboard memory. This memory can hold up to 365 days of logged data and for ease of use, we have incorporated a live trend screen to allow the operator to quickly check the performance conditions within the cabinet. Alternatively, the operator can download the logged data to a USB flash drive for archiving or review via a PC. No specific software is required to view logged data. A simple spreadsheet program is sufficient (Microsoft Excel or similar).
Based on almost 100 years of experience with lighting technologies, Vossloh-Schwabe develops and manufactures LED solutions on proven industry platforms that can be individually tailored to suit your specific area of application. The TRHSL uses high-output LED lighting in four colour options: 4000K, Leaf (2700K) and Bloom (1900K).
4000k: Because the light is neutral, not leaning in favour of red or blue spectrum, it can be described as 'standard' and is the closest equivalent to Cool White T5 fluorescent lamps.
Leaf (2700K): 'Leaf' is the recommendation for plants and vegetables with an optimised vegetative growth. Due to increased spectral emission in the far red (> 700 nm), as well as in the green (500–560 nm) spectral range, the growth of the plants or the vegetables can be positively influenced.
Bloom (1900K): 'Bloom' shows an optimised effect on ornamental plants and young seedlings, which need support in the flowering or the initial growth stage. The spectrum is characterised by focusing on the blue and red spectral range, providing maximum photosynthesis efficiency.
Technical Data
Brand

Thermoline

Capacity

300L - 850L

Models Available

Three

Temperature Range

+5°C to +40°C

Electrical

15A/230V

Castors

Yes

Humidity Range

20% to 90% RH
Support
At Thermoline, we strive to supply helpful customer support to ensure that you get the most out of our products. We are committed to providing whatever support our customers need, wherever they are in the world. If you can't find your solution in the below FAQs or Knowledge Base, please contact our friendly support team.
How do you maintain humidity in a chamber?

A refrigeration system is ideal for doing this. The evaporator coil in the chamber attracts moisture in the air, causing it to condense into water, which can then be drained away. A refrigeration system will help control temperature and humidity. Also, note that humidity is always relative to temperature; therefore, to be able to control humidity accurately and precisely, you need to control the temperature as well.

What is a temperature and humidity cabinet?

The purpose of the TRH temperature and humidity cabinet is to simulate and test the effects of various environmental conditions on products, materials, or samples in a controlled and repeatable manner.

These chambers are typically used in research and development, quality control, and manufacturing processes across a variety of industries such as electronics, automotive, aerospace, and pharmaceuticals.

Can I store a series of TRH cabinets adjacent to one another?

Yes, absolutely. You'll need to have enough space between cabinets to ensure that the exhaust from one does not blow into the next cabinet causing a reduction in performance. If space is an issue, please contact us about our innovative deflectors that allow chambers to be installed in close proximity to one another

Why would I need a temp and humidity cabinet with lighting?

A laboratory temperature and humidity cabinet with lights is a specialised piece of lab equipment designed to control temperature and humidity while also providing lighting for specimens or samples stored inside.

The addition of lights to the cabinet is handy for researchers who work with plants or other photosensitive samples. The light source can be adjusted to provide the optimal wavelength and intensity for growth, which can help to promote healthy plant growth and other research activities that require light.

What is Dew Point?

The dew point is the temperature at which dew (condensation) forms and is a measure of atmospheric moisture. It is the temperature to which air must be cooled at constant pressure and water content to reach saturation. Dew points are expressed as a temperature. Higher dew points correlate to higher moisture content, also known as absolute humidity.

The dew point represents the lowest temperature to which air with specific temperature and relative humidity (RH) can be cooled. At the dew point, air has a relative humidity of 100%, and additional cooling produces condensation rather than lowering the air temperature.

Do I need a water tank to supply water to the cabinet?

You only need a 25L/55L water tank if your cabinet cannot be connected to mains water supply. If mains water supply is not possible, 25L gravity and 55L pump water feed tanks are available to supply water to the cabinet. As a rule of thumb, a cabinet running at 90%RH will deplete a 55L water tank in approximately three days.