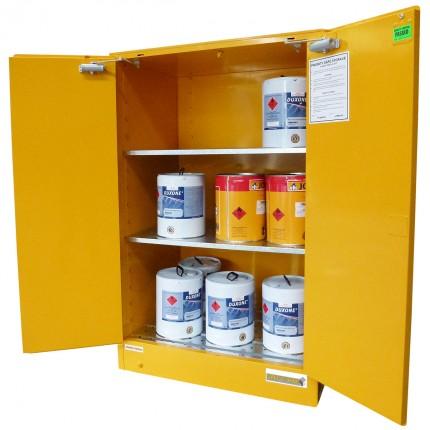 Storage of flammable and other dangerous goods in laboratories and the workplace.
We work closely with laboratory researchers and chemical manufacturers to ensure the safe handling and storage of dangerous chemicals. Our fully compliant metal and poly indoor storage cabinets are ideal for preventing costly accidents, explosions and fires in chemical labs.
Of the nine classes of dangerous goods, class 3 ­flammable liquids would have to be one of the most commonly used dangerous goods. Flammable and combustible liquids are found in almost every workplace. One reason why flammable liquids are used so frequently is because they readily combust and release energy. This energy can be successfully harnessed and used to power engines in power stations, automobiles, earth movers, generators and many other machines. Flammable liquids also have many other good uses. They are often the vital ingredients in cleaning agents, thinners, solvents, glues and adhesives, polishes, waxes, paints and varnishes.
Even though fl­ammable liquids have many good uses in our modern society, they also have the potential to cause a lot of harm to people, property and the environment if they are not managed in a safe and compliant manner. Flammable liquids are liquids that give off ­flammable vapours at relatively low temperatures.
If your laboratory or workplace is storing hazardous materials, you are legally required to identify ways to eliminate or minimise associated risks.
Key risks of storing dangerous goods include escape or spillage of goods, fires or explosions resulting from dangerous goods, and self-reacting goods, according to the SafeWork NSW Code of practice on managing risks of hazardous chemicals.
As with any hazard, it is vital to first carry out a risk assessment. Determine the risks associated with the materials being stored and establish a hierarchy of control for managing those risks.
The SafeWork NSW Code describes a 10-step guide to risk assessment for storing dangerous goods:
1.Decide who will do it.
2.Identify the dangerous goods in use, along with storage and associated hazards.
3.Identify areas and persons at risk.
4.Review information, including any relevant safety data sheets (SDS) and Australian Standards.
5.Identify external hazards and how these could impinge on the dangerous goods.
6.Estimate risks in each situation.
7.Reach conclusions about risks.
8.Identify and evaluate suitable control measures.
9.Adopt control measures.
10.Review the effectiveness of control measures.
11.Dangerous goods storage cabinets
Dangerous goods storage cabinets are one important control measure and are specifically designed to keep chemicals and other hazardous materials safe and secure.
However, it's not just a matter of throwing all your dangerous goods into a cabinet and they will be safe. Specific cabinets are designed for specific hazardous material and it's important to match the material to the storage cabinet.
Furthermore, the risk of an incident can be heightened by the incompatibility of different hazardous materials being stored within the same storage cabinet. It is important to classify the hazardous materials and avoid storing incompatible materials together.
Building and documenting safety and emergency plans and procedures can also help you store dangerous goods safely. Some important points include:
Consult the chemical's Safety Data Sheet (SDS) which will outline storage, handling and disposal guidelines along with any potential health, first aid and emergency response and firefighting measures as well as transport information, the chemical's stability, potential reactivity and its environmental effects.
Consider factors like where materials are stored in the cabinet, the quantity of materials and the environmental storage conditions like temperature, moisture, light and how those factors may affect the storage of the materials.
Determine if the materials or chemicals that are being stored were to leak, whether they could they react adversely to each other?
Create spill containment and fire containment (if materials are flammable) strategies in the event of leakage.
Some common places where fl­ammable liquids are stored or used are in areas where:
Petrol/diesel powered machines are used and serviced
Paints are mixed and applied
Greasy metals are cleaned with solvents
Each time you identify a location in your workplace where ­flammable liquids are stored you must also identify any hazards that may be present. There are a number of hazards that fl­ammable liquids may present.
These hazards are outlined below:
Flammability: the potential to burn or explode when ignited
Instability: the potential to undergo a spontaneous reaction
Reactivity: the potential to react with other chemicals or water
Toxicity: the immediate, delayed or long-term health effects on humans or animals through inhalation, skin absorption or ingestion
Environmental impact: the effect on the environment, including aquatic life
Corrosivity: The potential corrosive chemical action on other materials, in particular, packaging's and living tissue (including skin)
Encourage Hazard reporting:
Encouraging hazard reporting is a crucial ingredient to ensuring risks are identified and managed to prevent incidents. It is in the interests of all employees to encourage risk minimisation – not ignore them.
About Storemasta Dangerous Goods Storage Cabinets
Storemasta's storage cabinets are specifically created and customised to safely store eight categories of hazardous materials.
Flammable Liquids
Corrosive (Metal)
Corrosive (Polyethylene)
Toxic substances
Oxidising Agents
Organic Peroxide
Flammable Solid
Spontaneously Combustible
Dangerous When Wet
All cabinets are designed and manufactured to comply with all of the relevant Australian Standards.
Are your dangerous chemicals stored according to AS1940 and AS3780 in a compliant storage cabinet? It is often the small packages of flammable liquids being stored indoors that are overlooked.
As ­flammable liquids pose a lot of risks upon the people, property and environment of your organisation, it is very important that you have a disciplined, methodical and systematic approach to the management of their risks. An effective methodology that can be adopted is Identify, Assess, Control, Sustain. The adoption of this methodology will allow you to manage the risks associated with ­flammable liquids in an efficient and effective manner. If you would like any further advice on how to manage the risks associated with fl­ammable liquids, please don't hesitate to reach out, as we are more than happy to help.
View our full range: https://www.thermoline.com.au/category/chemical-storage