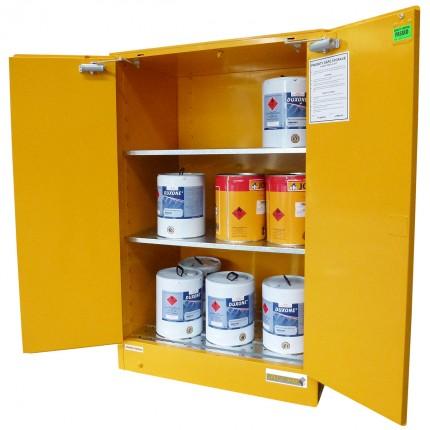 If you are storing flammable liquids, or want to assess your existing cabinets for efficiency and compliance, read on below for some tips to help get started. Flammable liquids are not only hazardous to human health, but they can cause catastrophic fires, explosions and environmental damage. Don't leave chemical storage to an off-the-shelf purchase without a risk assessment and thorough compliance check.
Our Cabinets
Flammable liquids cabinets that have been manufactured to Australian Safety Standards are the ideal storage solution for smaller quantities of flammable and combustible liquids. Flammable liquids left out in the open are vulnerable to heat, sparks, static electricity — and it's so easy for flammable chemicals to accumulate around a job site when there is no clear storage area for paint tins, solvents, glue, resin, petrol jerrycans and cleaning chemicals.
Flammable liquids cabinets come in sizes ranging from 30 litres to 850 litres: allowing you to store everything from small quantities of paint, cleaning chemicals or petrol — to 205 litre oil and fuel drums. Choose smaller (horizontally shaped) cabinets for under-bench storage, tall slim designs for tight spaces, or heavy-duty cabinets with construction materials 25% stronger than standard.
Australian Safety Standards have strict requirements for where a flammable liquids cabinet can (and cannot be placed). In brief:
Indoor flammable liquids cabinets must not be placed within 3 metres of an ignition source (industrial heat, electrical sockets, hot work). 
Cabinets must not block emergency exits or interfere with the natural flow of people evacuating a building.
Large capacity cabinets (more than 250 litres) cannot be installed against a common wall or in a public building (hospital, school, aged care facility, hotel etc).
Aggregate quantities of flammable liquids stored indoors are capped at 850 litres (ground floor) per 250 square metres, and 250 litres (higher levels) per 250 square metres. Each aggregate quantity must be kept at least 10 metres apart.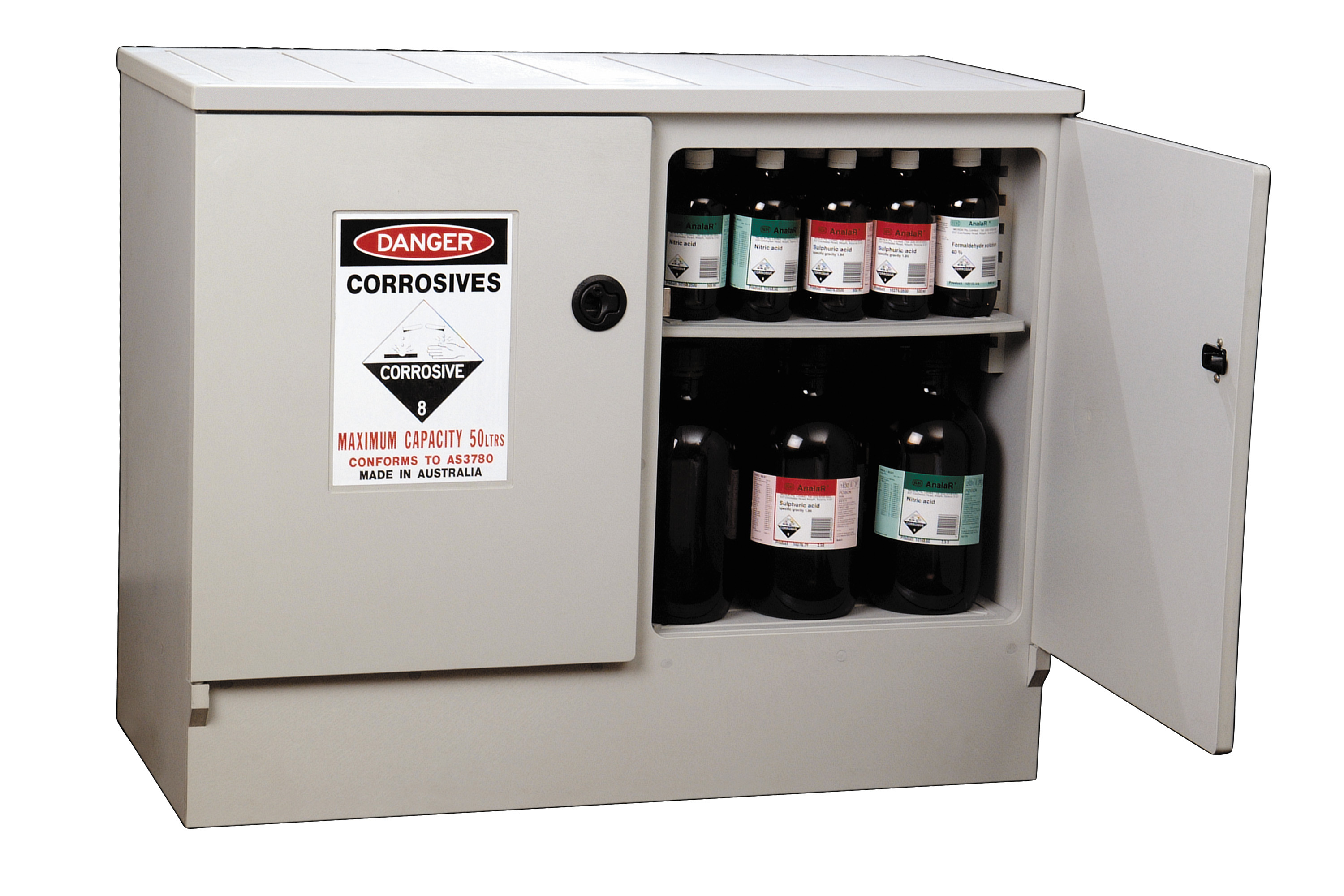 Decanting from our cabinets
Chemical drums and containers stored inside a flammable liquid's cabinet must have their caps and seals in place — or have a tap installed. This is a requirement of Australian Safety Standards and an important consideration if you intend decanting chemicals from your cabinet.
Flammable liquids cabinets have self-closing doors and are specifically designed to be kept closed at all times — if you want to decant from the cabinet always carry out a risk assessment to ensure you aren't creating additional hazards. Considerations include:
Fire and explosion hazards — is the cabinet in the proximity of ignition sources (heat, flames, machinery, electrical discharge)?
Vapours and fumes — will decanting push concentration levels of vapours and fumes above workplace exposure standards?
Chemical spills — decanting increases the risk of chemical spillage, what additional spill protection do you have in place?
Compatibility hazards — is the cabinet at least 3-5 metres from different chemical hazard classes (eg, toxic and corrosives chemicals, oxidisers, organic peroxides)?
View our complete chemical storage cabinet range via this link:
https://www.thermoline.com.au/category/chemical-storage