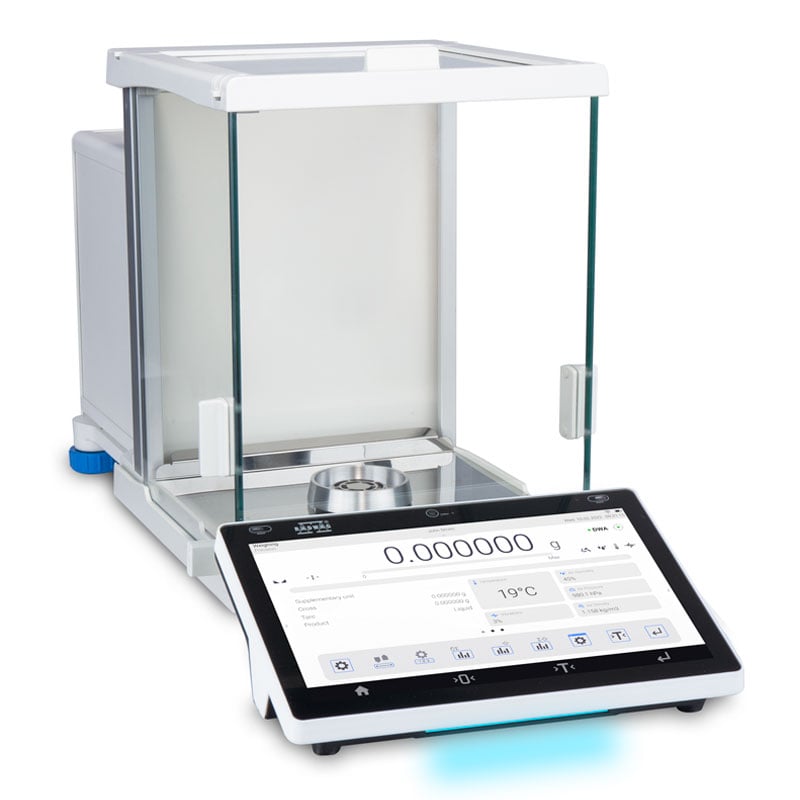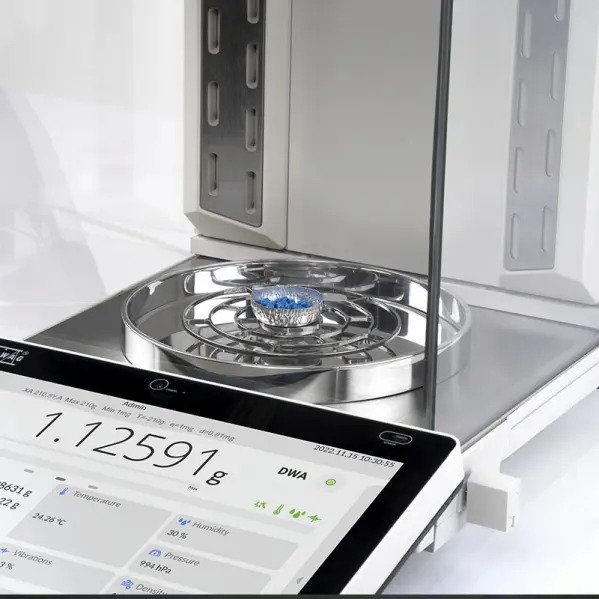 XA Microbalance with 10" Touch Screen
XA
Do you need a balance that not only determines weight with impressive accuracy, but also performs a digital audit, responds to your voice commands and sends you light messages?
If so, learn about the functionality of the ELLIPSIS series of balances.
Overview
Digital Weighing Auditor
Ensures that your balance is ready for use. It enables air buoyancy compensation in real-time. What is more, it informs about the need for a balance inspection or a periodic audit of the balance's accuracy and sensitivity.
10-Inch Display
Bigger screen – 10'' – means more information in one place. On the new ELLIPSIS terminal, you will see up to 3 screens, widgets, graphs, statuses, notes, handy measurement history.
Uncompromising User Verification
For the first time ever, the balance will verify the user using a password, RFID card, fingerprint reader, facial recognition mechanism, or any combination of these.
Ambient Light – An Innovative Way for the Balance to Communicate With the User
The light colour will tell you about status, process results, procedures, or alerts.
Hotspot
Use the balance on any device connected to it. This can be a smartphone, tablet, or computer.
RFID
ELLIPSIS works with RFID tags* that can be used to tag your products or formulation ingredients in the database. They can also be used to identify a user.
Live Note – Note Down Your Conclusions
It's the first time you can add a voice memo to a measurement series or procedure report. If you prefer to write it down, ELLIPSIS allows you to add a text note.
Handy Library
This is where a series of recent measurements or a report ready for digital signature, according to 21 CFR Part 11, can be found.
Widgets
Prepared to display what you need most at any given moment.
Automatic Leveling of the Balance ReflexLEVEL System
Instead of manually leveling your scale - level it automatically. The ReflexLEVEL System saves you time and gives you maximum precision in your measurements.
Smart Min Weight
The balance displays whether the value of the weight you want to weigh is below or above the minimum weight threshold.
Two-point adjustment
Adjacency, which takes place at two measurement points instead of one, improves measurement precision over the full weighing range. And what does this mean for you? More accurate measurement.
Technical Data
Brand

Radwag

Capacity

6.1 g

Electrical

12V DC

Readability

1 µg
Support
At Thermoline, we strive to supply helpful customer support to ensure that you get the most out of our products. We are committed to providing whatever support our customers need, wherever they are in the world. If you can't find your solution in the below FAQs or Knowledge Base, please contact our friendly support team.
What is laboratory balance?

A laboratory balance is a precision instrument used to measure the mass of an object or sample. It is designed for use in laboratory settings and is typically more accurate and precise than a standard scale.

A laboratory balance typically consists of a weighing platform, a load cell to measure the weight of the sample, and a digital display that shows the result. The load cell converts the force of gravity acting on the sample into an electrical signal, which is then displayed on the digital display.

What is the difference between a scale and a balance?

While scales and balances are both used as weighing devices, their intended purposes vary slightly.

A scale is used to measure weight (weight = the force of gravity on an object on the scale), whereas a balance is used to measure mass. (mass = the amount of matter in an object). A scale is a general-purpose measuring instrument that gives an estimate of the weight of an object. They typically use spring mechanisms to measure weight and have a lower precision compared to laboratory balances.

A balance, on the other hand, is a highly precise instrument used in laboratory settings. Balances use load cells to measure weight and provide a much higher level of accuracy compared to scales. The readout on a balance is usually digital, and the results can be displayed in various units of measurement, including grams, kilograms, and ounces.

What are the appropriate conditions for a laboratory balance?

You should first install the balance in a workroom free of vibrations and shakes and where there is no air draft or dust. You want to ensure that the ambient temperature is between +15°C and +35°C while ensuring that the relative humidity is not above 80%. Place the balance either on a robust-design table or on a wall bracket that is both distant from heat sources and insusceptible to vibrations.

What is the difference between a precision balance and an analytical balance?

Precision balances and analytical balances are both types of laboratory balances, but they differ in their level of precision and the types of applications for which they are used.

A precision balance is a type of laboratory balance that provides accurate measurements within a range of ±0.1 to ±0.01 grams. Precision balances are typically used for routine weighing tasks, such as determining the mass of chemicals for routine laboratory experiments, or for checking the weight of small parts in industrial settings.

An analytical balance, on the other hand, is a highly precise type of laboratory balance that provides accurate measurements within a range of ±0.0001 grams. Analytical balances are used for more demanding applications, such as determining the mass of samples for highly accurate chemical analysis, or for weighing minute quantities of substances in medical and pharmaceutical research.