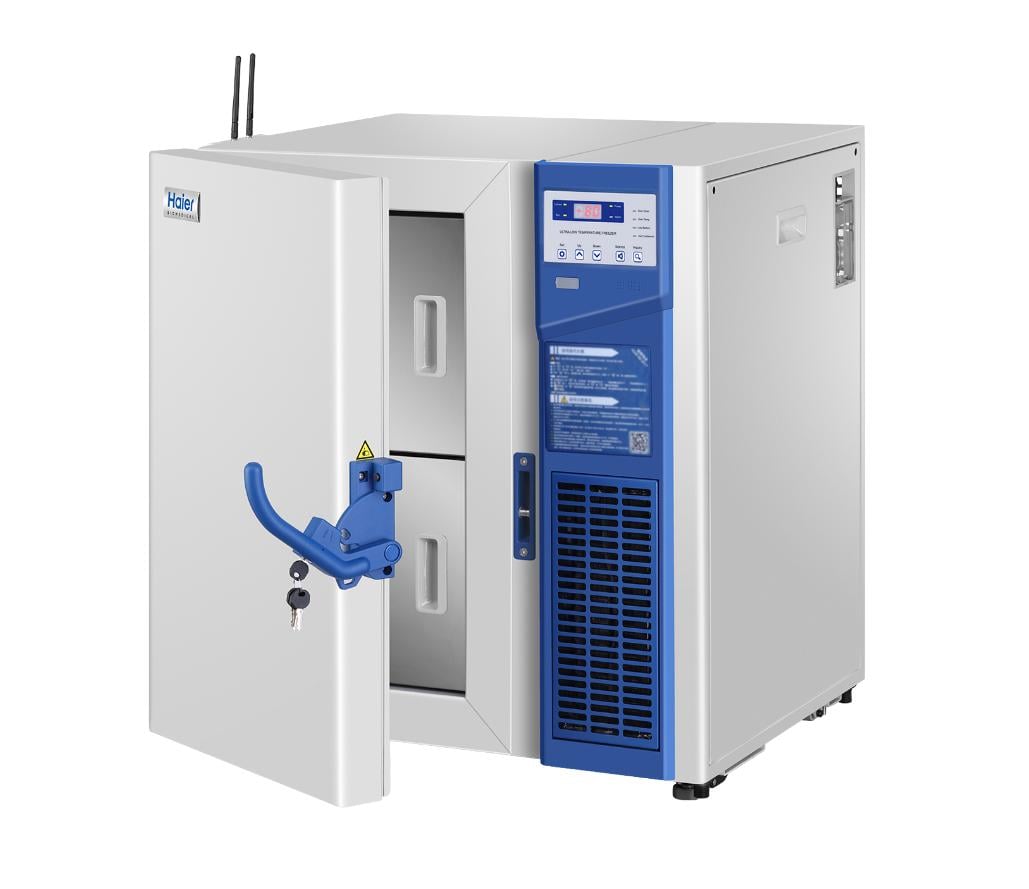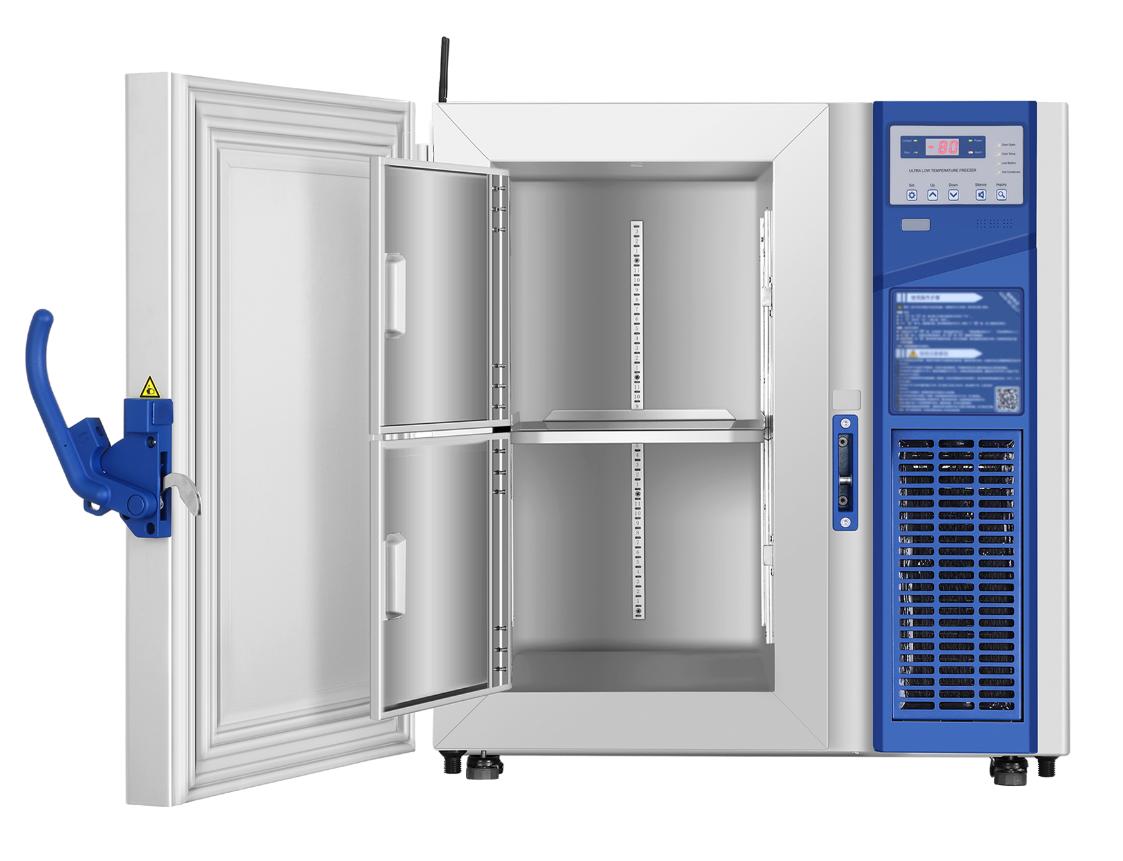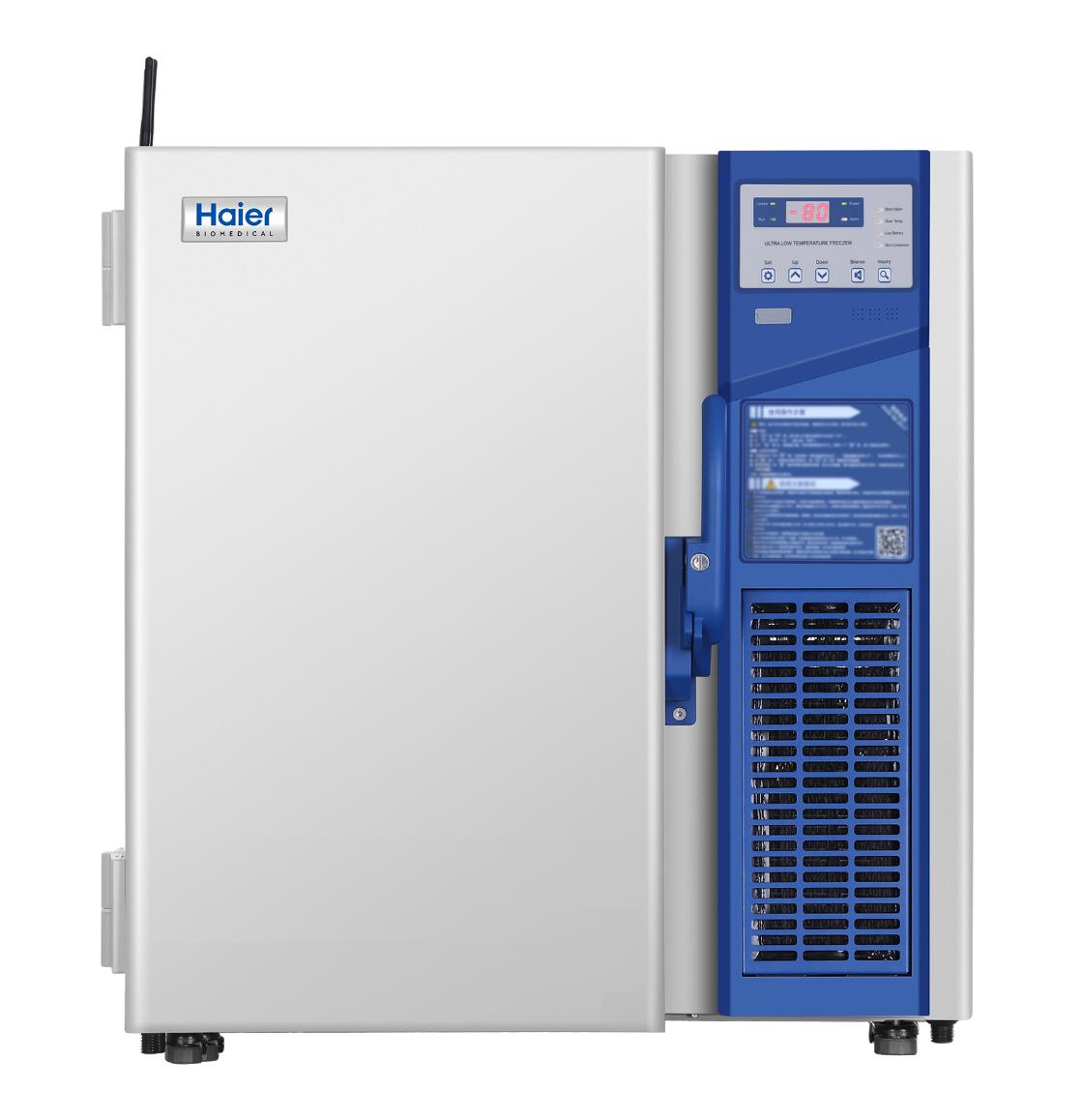 -80°C Ultra Low Temp Under Bench Freezer
DW-86L100J
The DW-86L100J ultra-low freezer from Haier is one of the range's most popular and versatile models. Its compact footprint and height make it an ideal option for tight spaces, and it's efficient operation provides laboratories with a perfect low-temperature storage solution.
Overview
This freezer boasts a 100L capacity, capable of storing up to 6000 samples. At an overall height of 810mm, it can fit snugly beneath most laboratory benchtops, maximising valuable workspace. Two freezers can be stacked atop one another for those requiring additional storage, freeing up laboratory floor space.
With an impressive power consumption of only 5.5 kWh/day, this freezer helps keep laboratory running costs low. The use of a hydrocarbon compressor, multi-layered seals, and a dual-door design all contribute to minimising cold energy losses. The freezer emits a low sound level of only 46.8dB, thanks to a noise reduction cabinet and system design, ensuring a comfortable working environment.
An ergonomic door handle design is for easy door opening and closing. Lockable and equipped with four keys as standard, with the ability to add a padlock for extra security when required.
Connectivity options include a USB interface for accessing historical data from built-in sensors, a remote alarm port, and an RS-485 interface for easy integration with your laboratory management system. These features ensure prompt fault detection and notification to laboratory managers, enhancing sample safety.
The freezer has several fault alarms, including high/low temperature, high/low voltage, high ambient, sensor error, door ajar, power failure, low battery, remote alarm, and hot condenser alarm. The freezer features two types of alarms: an audible buzzer alarm and a flashing light alarm. Additionally, in case of a power outage, the battery backup alarm function can operate continuously for more than 24 hours.
The DW-86L100J ultra-low freezer from Haier is an efficient and secure solution for laboratory sample storage. Its compact design, low noise emissions, and connectivity options make it an excellent choice for laboratories where space, cost, and sample security are top priorities.
Technical Data
Brand

Haier

Capacity

100L

Temperature Range

-40°C to -86°C

Electrical

5A/230V

Castors

No
Support
At Thermoline, we strive to supply helpful customer support to ensure that you get the most out of our products. We are committed to providing whatever support our customers need, wherever they are in the world. If you can't find your solution in the below FAQs or Knowledge Base, please contact our friendly support team.
How often should you defrost a lab freezer?

The frequency of defrosting a lab freezer depends on the model and the usage pattern. However, it is generally recommended to defrost a lab freezer at least once or twice a year to maintain its optimal performance.

A buildup of ice in the freezer can reduce its efficiency and increase the risk of freezer burn, damaging the quality of the samples stored inside. It can also increase the risk of mechanical failure, leading to costly repairs or even loss of samples.

Following the manufacturer's instructions for defrosting the freezer is important, as the process may vary depending on the model. Generally, defrosting should be done when the freezer is relatively empty, with the samples stored elsewhere temporarily. The freezer should be turned off and allowed to thaw completely before cleaning and restarting.

In addition to regular defrosting, keeping the freezer clean and well-maintained is vital to ensure its longevity and reliability.

What different types of laboratory freezer are available?

There are several types of laboratory freezers available, including:

Upright freezers: These freezers have a vertical orientation and are available in a range of sizes, from under benchtop models to large capacity units that can store hundreds of samples. Upright freezers typically have several shelves, drawers or compartments for easy organisation of samples.

Chest freezers: Chest freezers have a horizontal orientation and are often used for storing large or bulky items. They are more energy efficient than upright freezers and can provide longer holdover times during power outages.

Biomedical Chest Freezers: These -60°C chest freezers are suitable for storing a wide variety of biological products including viruses, bacteria, blood cells, skin and bone as well as ocean-going supplies and electronic devices.



Ultra-low temperature freezers: These freezers provide even lower temperatures, down to -80°C. They are often used for long-term storage of biological specimens, vaccines, and other critical materials.

What is an ultra low freezer?

These are freezers designed specifically for laboratories to preserve biological samples. These provide a stable temperature from -40C right down to -80C

How does an ultra low freezer work?

Ultra Low Freezers make use of cascade refrigeration. A cascade refrigeration system is a type of refrigeration system that uses two or more refrigeration cycles operating at different temperature levels to achieve extremely low temperatures. It is commonly used when standard refrigeration systems cannot achieve the desired temperature range.

In a cascade refrigeration system, two or more refrigeration cycles are arranged in series, with the evaporator of one cycle serving as the condenser of the next cycle. The cycles are typically designed to operate at different temperature levels, with the coldest cycle being used to achieve the desired low temperature.

What is the temperature range for ultra low freezer?

The temperature range for ultra-low freezers is typically between -80°C and -40°C. These freezers are designed to maintain extremely low temperatures for long-term biological and other temperature-sensitive materials storage. They are commonly used in research and clinical laboratories, biobanks, and other facilities where the storage of valuable samples and specimens is required.

Most ULTs create a consistent environment where the freezer's internal temperature remains between -70°C and -80°C.