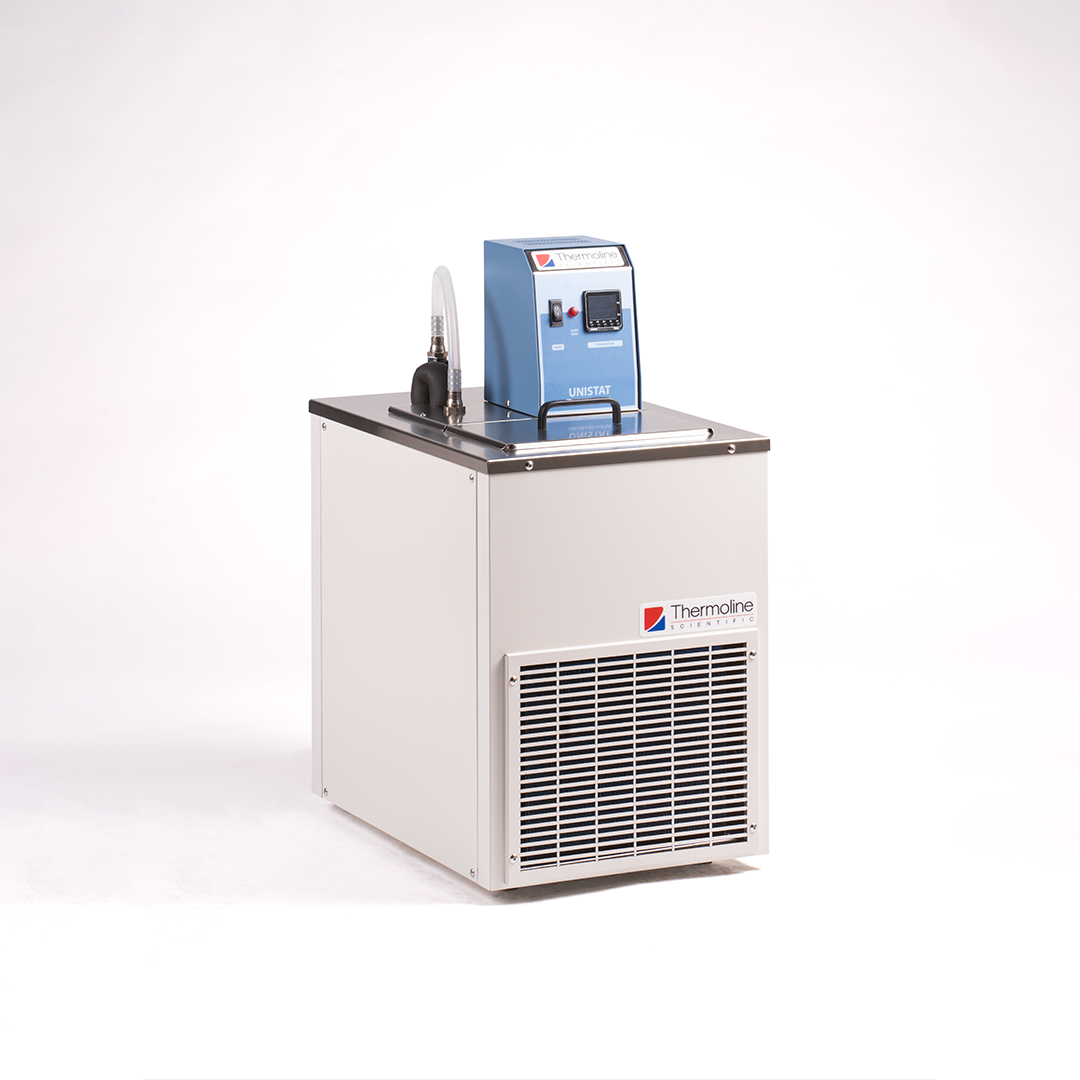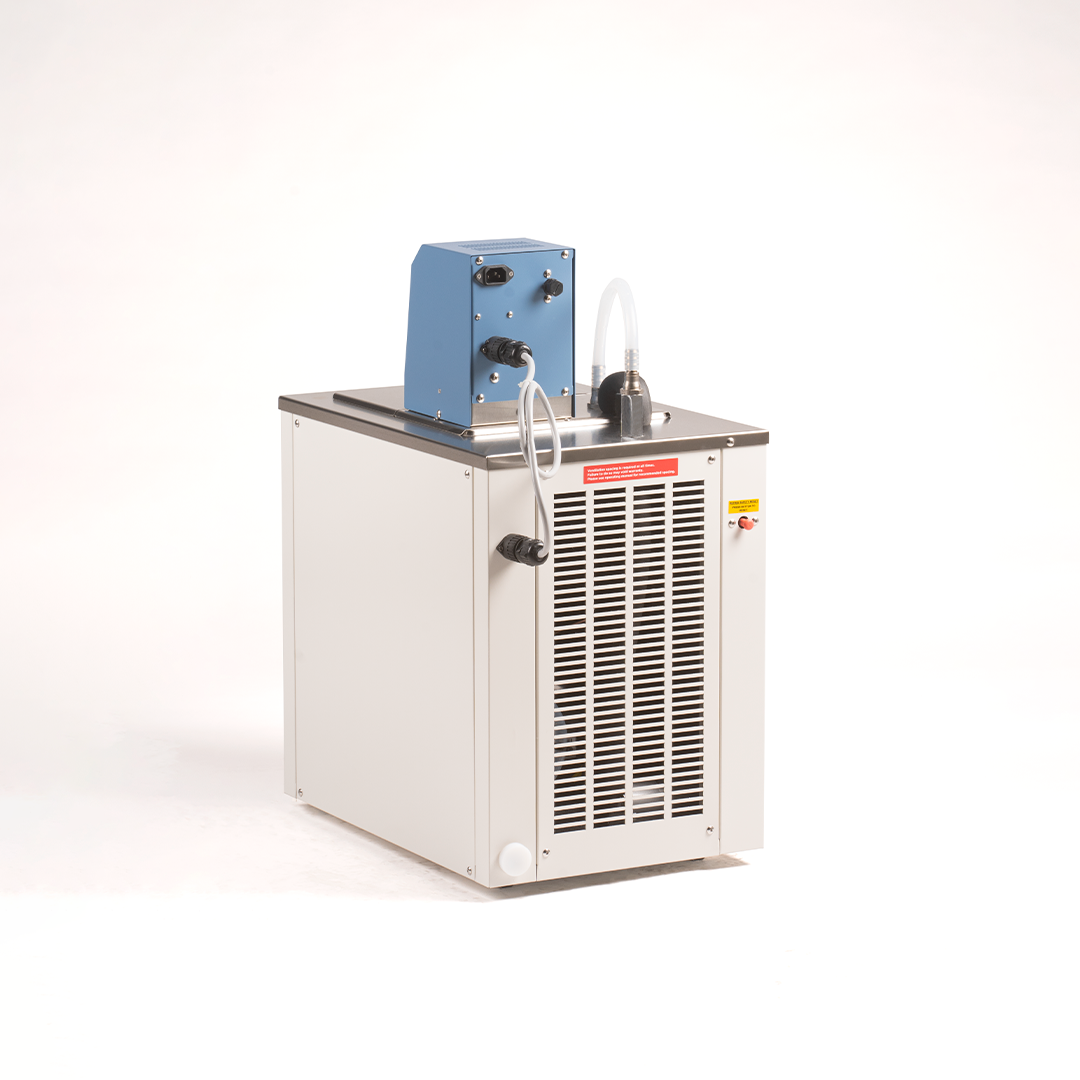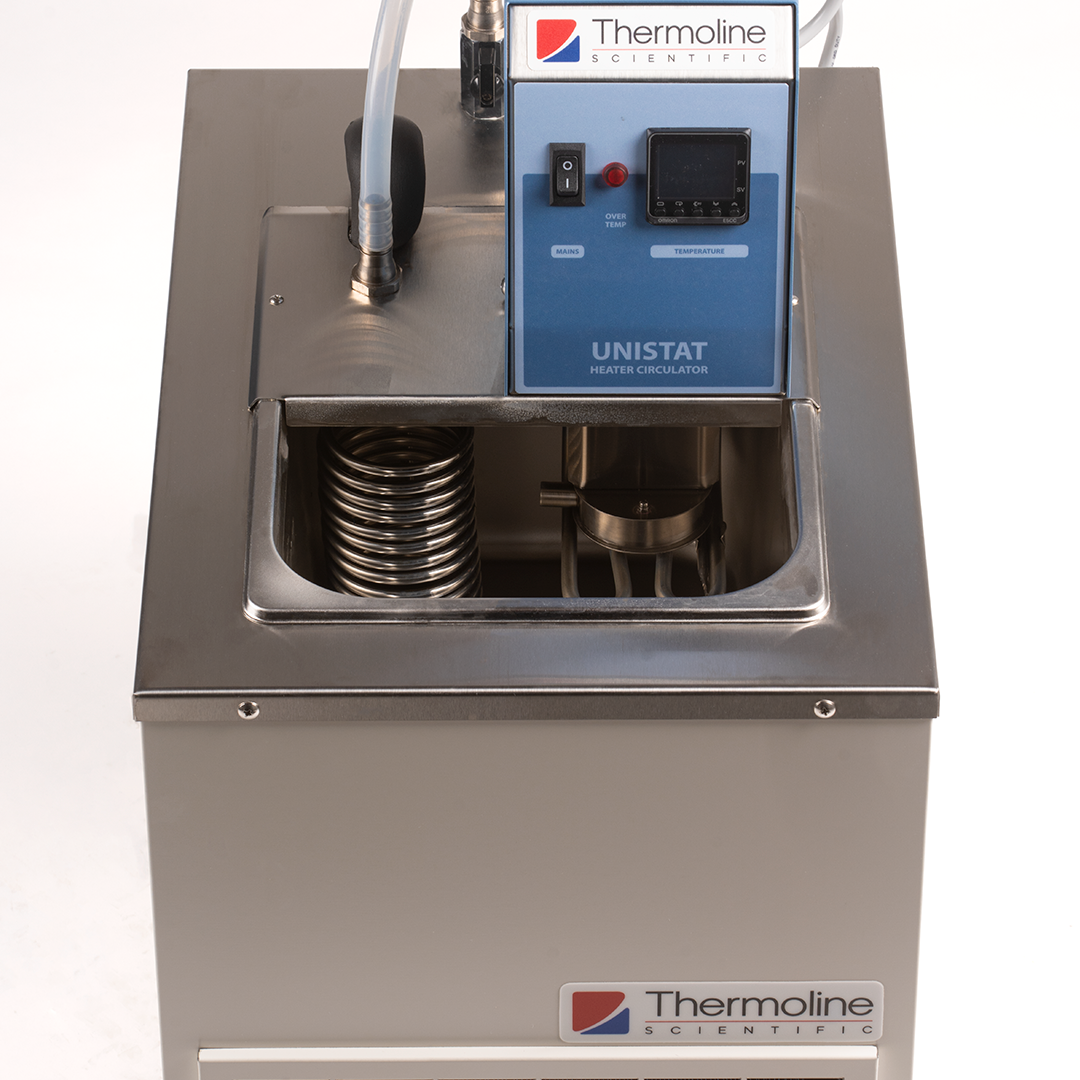 Refrigerated Circulated Water Baths
TWBRC
Thermoline's refrigerated baths are ideal for applications where low liquid temperatures are required.
Essentially a combination of a laboratory water bath and a refrigeration unit, the refrigerated water bath allows for both heating and cooling of the water in the bath.
Overview
Both the 12L and 24L baths feature a digital display that indicates the set temperature and actual liquid temperature, bath drain valve for easy drainage and a pump out facility to circulate water to an external vessel. The built in microprocessor control ensures accurate temperature stability and allows for easy temperature adjustments. The tank is constructed from stainless steel and are insulated to minimise temperature loss.
The baths work with the refrigeration cooling system operating continuously and heat, and therefore temperature control, provided by the TU3 unistat.
Circulated Water baths have a wide range of applications in various fields, including biomedicine, life sciences, and industry. They are also commonly used in commercial kitchen cooking methods like Sous Vide.
Refrigerated laboratory water baths offer several advantages overheat-only water baths, particularly in applications where below ambient room temperature is required. They allow for a wider range of temperature control which can be essential for some applications. The Thermoline refrigerated water baths are commonly used in a variety of scientific and research applications, including in biochemistry, microbiology, and molecular biology as well as cooling electrical components and light laboratory equipment.
Technical Data
Brand

Thermoline

Capacity

12L - 24L

Models Available

Two

Temperature Range

-5°C to +80°C

Electrical

7.5A/230V
Support
At Thermoline, we strive to supply helpful customer support to ensure that you get the most out of our products. We are committed to providing whatever support our customers need, wherever they are in the world. If you can't find your solution in the below FAQs or Knowledge Base, please contact our friendly support team.
How do I control temperatures at or below ambient?

To achieve temperatures at or below ambient will require refrigeration of the bath. Thermoline has a wide range of refrigerated water baths to suit your needs. The TU3 is a heat-only device that controls temperatures +5°C above ambient temperature.

What are laboratory water baths used for?

Laboratory water baths are a type of laboratory equipment that are used for a variety of applications, including:

Warming and thawing samples: Water baths can be used to quickly and uniformly warm or thaw samples, such as reagents or frozen biological specimens, to a specific temperature.

Incubating and culturing samples: Water baths can be used to incubate samples at a controlled temperature for a specified period. This is commonly used in microbiology and molecular biology applications, such as growing bacterial cultures, conducting enzyme assays, and hybridisation.

Heating and maintaining consistent temperature for reactions: Water baths can be used for heating and maintaining a constant temperature for chemical and biochemical reactions, such as PCR amplification, DNA melting, and protein denaturation.

Melting point determination: Water baths can be used for determining the melting point of solid samples, such as organic compounds.

What are different types of water bath?

Some of the water baths that Thermoline Scientific supplies include:

General-purpose uncircuated water baths: These are basic water baths that are suitable for a variety of laboratory applications, including warming samples and incubating cultures.

Circulating water baths: These water baths have a built-in pump or external TU3 heater circulator that circulates the water to maintain a constant temperature throughout the bath. They are commonly used in applications that require precise temperature control, such as PCR amplification and protein denaturation.

Shaking water baths: These water baths have a shaking platform that allows for agitation of samples during incubation. They are commonly used in applications that require mixing, such as bacterial culture growth and hybridisation.