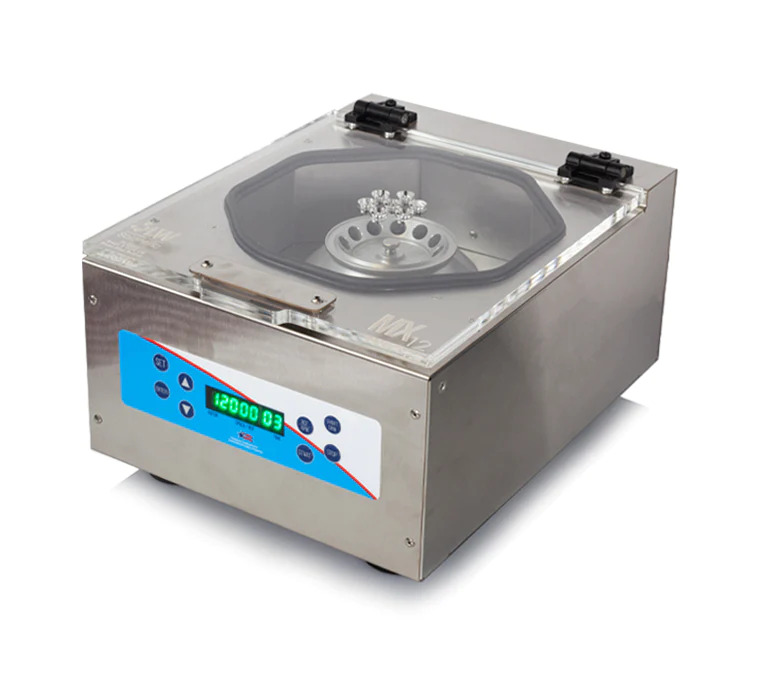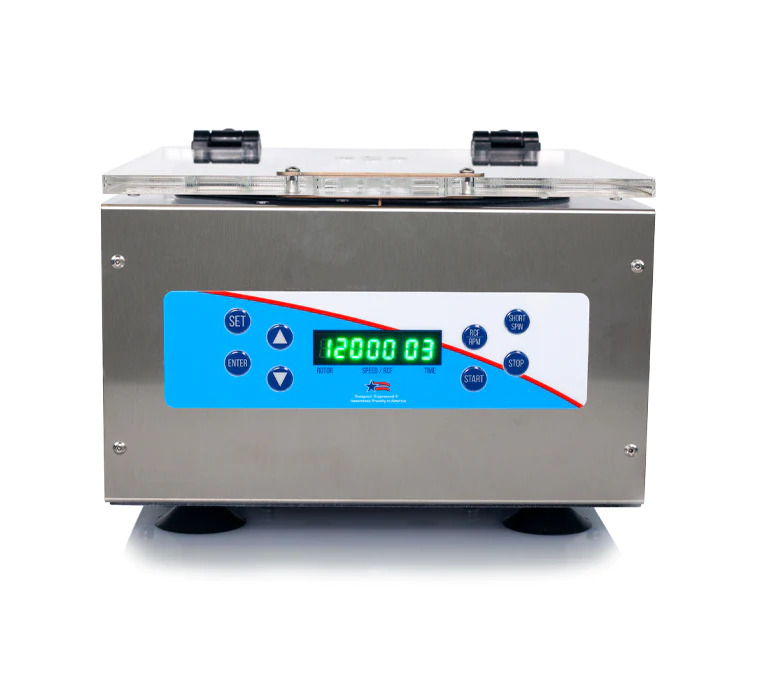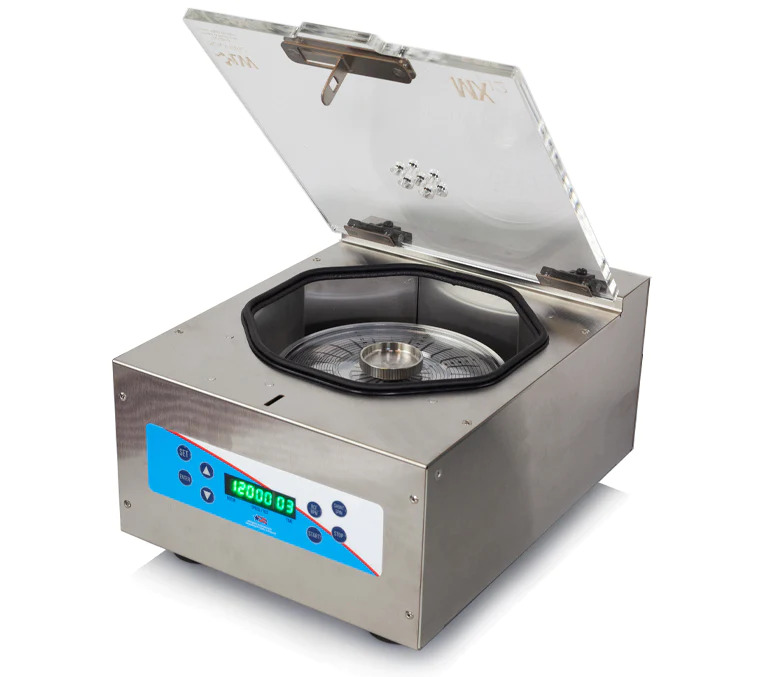 Micro-Combo Vet Benchtop Centrifuge
MX12
The MX12 centrifuge is an impressive VET centrifuge for spinning full-size 75mm capillary tubes .
The MX12 PCV centrifuge is an impressive 24-place microhematocrit centrifuge for spinning full-size 75mm capillary tubes. The MX12 is designed, engineered, and assembled in Atlanta, GA. This all-metal-construction unit is small, conserving valuable counter space in the lab, but also sturdy and heavy with suction-cupped feet for stability.
Overview
The MX12 centrifuge is the smart choice for any clinic or laboratory.

The digital controls allow speed and time to be adjusted with the touch of a finger and will show real-time speed and time remaining.
The powerful, maintenance-free, brushless motor spins at 12,000 rpm producing PCV results in 3 minutes.
The included reader disk allows tubes to be read while still on the rotor.
Results in 3 minutes
Small footprint conserves counter space
24-place flat rotor spins full-size 75mm microhematocrit tubes
Supplied with reader disk
Digital LCD displays speed, time
Safety shut off switch in lid
Suction-cupped feet to prevent slipping
Brushless, maintenance-free motor
All-metal body and rotor
This veterinary centrifuge is used for blood separations, urine sediments, microhematocrits and other routine applications you may have in your surgery.
Technical Data
Brand

LW Scientific

Capacity

1-2ml/75mm Cap Tubes

Electrical

230V

Speed Range

Max 12,000rpm
Support
At Thermoline, we strive to supply helpful customer support to ensure that you get the most out of our products. We are committed to providing whatever support our customers need, wherever they are in the world. If you can't find your solution in the below FAQs or Knowledge Base, please contact our friendly support team.
What is a laboratory centrifuge?

A laboratory centrifuge is a laboratory instrument used to separate different components of a mixture based on their size, density, or shape. It works by spinning the mixture at high speed, causing the heavier or denser components to move to the bottom of the centrifuge tube, while the lighter components remain near the top.

What is the difference between a fixed angle and swing out rotor?

The difference between a fixed angle rotor and a swing-out rotor in a laboratory centrifuge is the way that the tubes or vials are held in place during centrifugation.

A fixed angle rotor has a fixed angle of inclination, usually between 15° and 45°, and the tubes or vials are held in place by a locking mechanism. This type of rotor is typically used for applications that require high speeds and short centrifugation times.

A swing-out rotor, on the other hand, has a hinged bucket that swings out from the axis of rotation, allowing for easy access to the tubes or vials. This type of rotor is typically used for applications that require slower speeds and longer centrifugation times, as it allows for more gentle handling of the samples.

What does a centrifuge consist of?

A typical laboratory centrifuge consists of a rotor, which holds the tubes or vials containing the mixture, and a motor that drives the rotor to spin at high speed. The rotor is typically mounted in a sealed chamber, which is designed to contain the mixture in the event of a tube breaking or leaking.