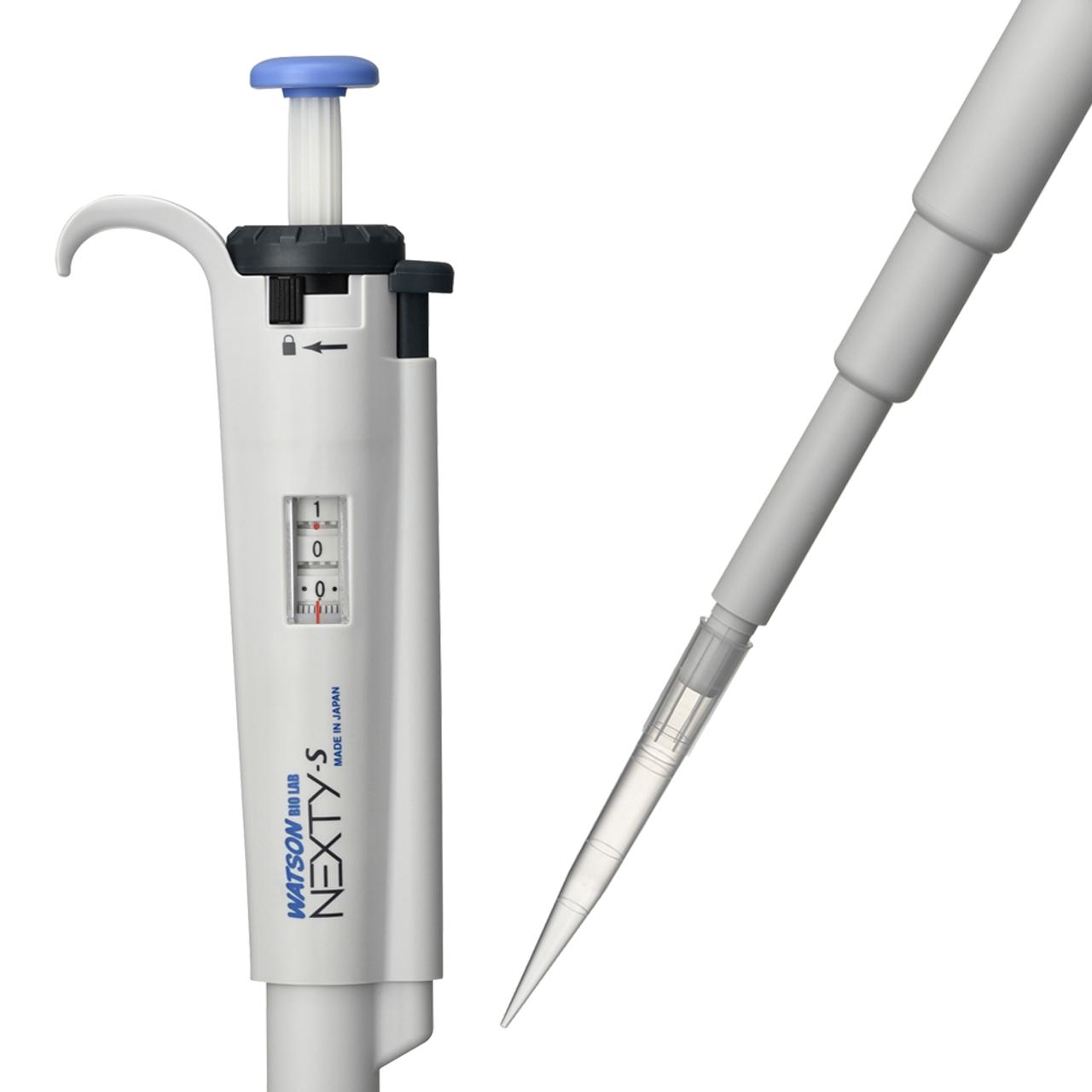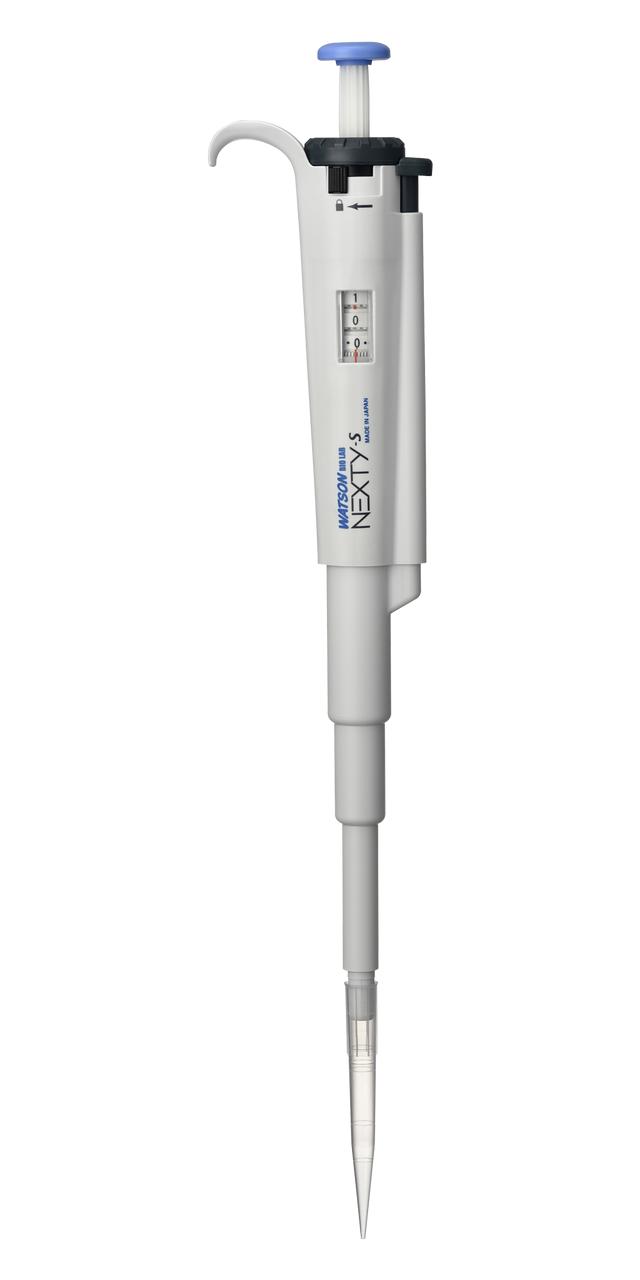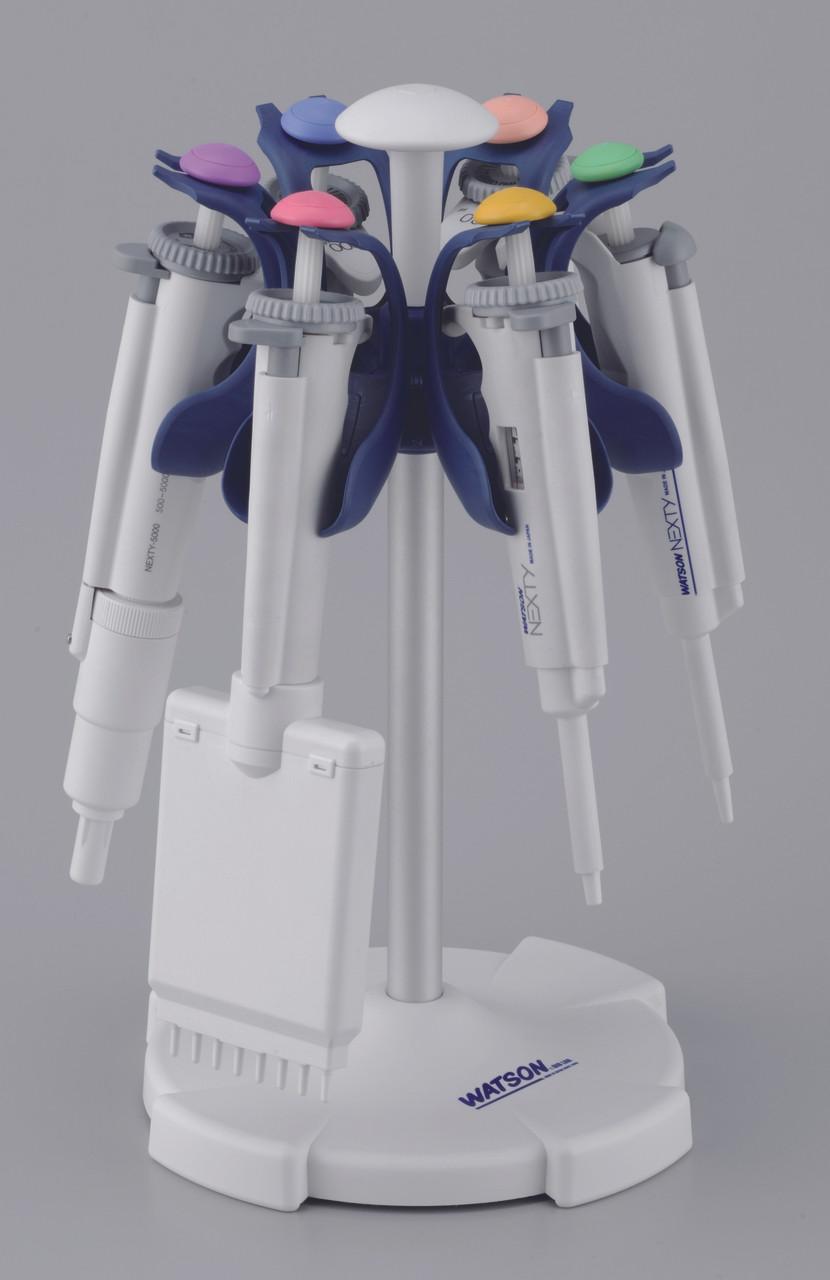 Micropipettes
NEXTY
LabDirect is pleased to act as a lead distributor for Watson's NEXTY Pipettors. This range is the next generation of pipette which boasts the latest in ergonomic design, comfort, and ease of use.
Made from a tough and durable material, their short design makes them easier to handle while the push button colour codes make them easily recognisable. Unique and modern in their design, they outperform other pipette brands with their innovative design features.
Overview
The triple speed turbo dial drastically speeds up efficiency when making large volume changes while push buttons are colour coded by volume. Easily operated by one hand, the unique mushroom shaped button reduces the risk of repetitive strain on the thumb, while a new spring system means it only takes a light touch to operate the NEXTY.
Seven models of single channel pipettors cover the entire volume range from 0.2µl to 5000µl while the 8 channel pipettors are available in three models to cover 1µl to 200µl..
To keep your bench organised, why not invest in the NEXTY pipettor carousel stand which has space for six.
All pipettors carry a one year guarantee from date of purchase so you can browse and shop from our selection of NEXTY pipettors with confidence.
Technical Data
Brand

NEXTY

Capacity

0.2µl to 5000µl
Support
At Thermoline, we strive to supply helpful customer support to ensure that you get the most out of our products. We are committed to providing whatever support our customers need, wherever they are in the world. If you can't find your solution in the below FAQs or Knowledge Base, please contact our friendly support team.
What are micropipettes used for?

Micropipettes are precision instruments used for accurately measuring and dispensing small volumes of liquid in the laboratory. They are commonly used in various scientific and medical applications, including in molecular biology, biochemistry, microbiology, and clinical diagnostics.

Some of the common applications of micropipettes include:

Preparing and dispensing reagents and samples for various laboratory procedures, such as PCR, gel electrophoresis, and enzyme assays.

Transferring small volumes of liquids for the preparation of standards and dilutions.

Measuring small volumes of liquids for experiments that require high precision, such as DNA sequencing, protein analysis, and cell culture.

Dispensing solutions for clinical diagnostic tests, such as blood glucose and cholesterol tests.

Micropipettes are critical tools for accurate and precise liquid handling in laboratory settings, and they help ensure the reproducibility and reliability of scientific experiments and clinical tests.

What are the advantages of micropipettes?

Micropipettes offer several advantages in laboratory settings, including:

Accuracy and precision: Micropipettors are designed to provide accurate and precise measurements of small volumes of liquids, which is critical for many laboratory applications. This allows researchers to achieve reproducible results and avoid experimental errors.

Ease of use: Micropipettors are easy to use and require minimal training, which makes them ideal for routine laboratory tasks. They typically feature simple one-handed operation, and the disposable tips make it easy to switch between different liquids without the risk of cross-contamination.

Time savings: Micropipettors allow for rapid and precise measurement and transfer of a small volume of liquids, saving time in the laboratory. This is particularly important in high-throughput applications, where researchers must process large samples quickly and accurately.

Versatility: Micropipettors are suitable for a wide range of laboratory applications, from molecular biology and biochemistry to clinical diagnostics and pharmaceutical research. They are available in different volume ranges to meet the needs of various applications and can be used with various liquids, including aqueous and organic solvents.

Cost-effectiveness: Micropipettors are relatively inexpensive compared to other laboratory equipment, which makes them accessible to a wide range of researchers and institutions. They also have a long lifespan when properly maintained, which can help to reduce overall laboratory costs.

What are the volumes of micropipettes?

Seven models of single channel pipettors cover the entire volume range from 0.2 µl to 5000µl while the 8 channel pipettors are available in two models to cover 1 to 10µ and 20 to 200µl.

The accuracy and precision of micropipettors are critical for obtaining reliable and reproducible results in scientific research and clinical diagnostics.