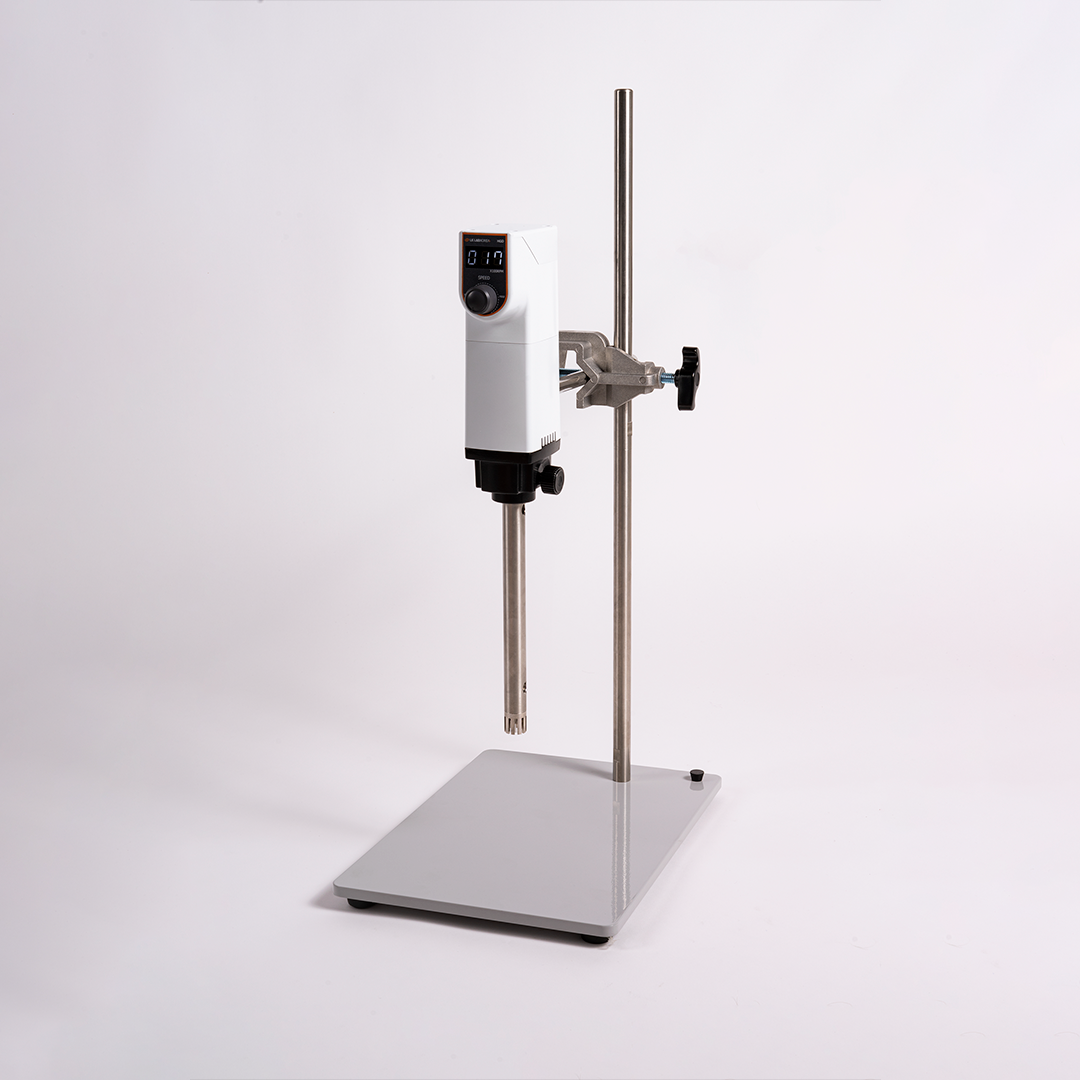 Digital Homogeniser
HGD-10
Whether used for homogenizing, emulsifying or suspending, Thermoline's digital homogenizer enables the best possible results and reliability.
Overview
The HGD-10 digital homogenizer is specifically designed for blending and mixing small liquid and tissue samples. It features a soft-starting high-speed and low-noise motor with a maximum no-load RPM of 27,000 and the digital display shows real-time RPM and set RPM parameters. A simple jog dial switch makes adjusting the speed quick and easy.
This homogenizer can handle working volumes of up to 2500ml with a 25mm dispersion tool, and can operate up to a speed of up to 27,000 rpm (adjustable from 2,000 rpm). The highly efficient stainless steel dispersing tools have PTFE bearings for incredible reliability and longevity.
The standard pack includes a homogenizer unit, the plate stand (measuring 200x315 mm) with a 16x800mm rod, and the 18mm homogenizer tool suitable for 10 ~ 1000 ml samples. A 25mm diameter homogenizer tool (suitable for 50 ~ 2500 ml samples) is an optional addition.
Technical Data
Brand

LK Lab

Capacity

2.5L (water)

Sizes

18mm tool (25mm option)

Electrical

0.5A/230V

Speed Range

2000 - 27000rpm
Downloads
Support
At Thermoline, we strive to supply helpful customer support to ensure that you get the most out of our products. We are committed to providing whatever support our customers need, wherever they are in the world. If you can't find your solution in the below FAQs or Knowledge Base, please contact our friendly support team.
What is the difference between an overhead stirrer and homogenizer?

The main difference between a stirrer and a homogenizer is their purpose and operating mechanism. Stirrers are used to mix liquids, while homogenizers disrupt and homogenize biological samples. Stirrers typically use a rotating blade to create a vortex that stirs the liquid, while homogenizers use mechanical force to break down cell membranes and create a uniform mixture of the sample.

What is the principle of homogenization?

A homogenizer is a mixer that is used to create an even mixture by forcing material through a narrow, confined space. Many forces such as turbulence and high pressure are used to distribute the contents of the solution evenly.

Does homogenization reduce the particle size?

The size of particles will be reduced and is dependent on the operating speed and pressure of the homogenizer.

What is a lab homogenizer?

A lab homogenizer is a device used in laboratories to break down, mix, and emulsify samples by subjecting them to high shear forces. It is also known as a tissue homogenizer, cell disrupter, or tissue grinder.

Homogenizers are commonly used to break down biological samples such as tissues, cells, and bacteria, in order to extract proteins, DNA, RNA, or other biomolecules. The device can also be used for mixing and emulsifying liquids, powders, and other materials in a laboratory setting.