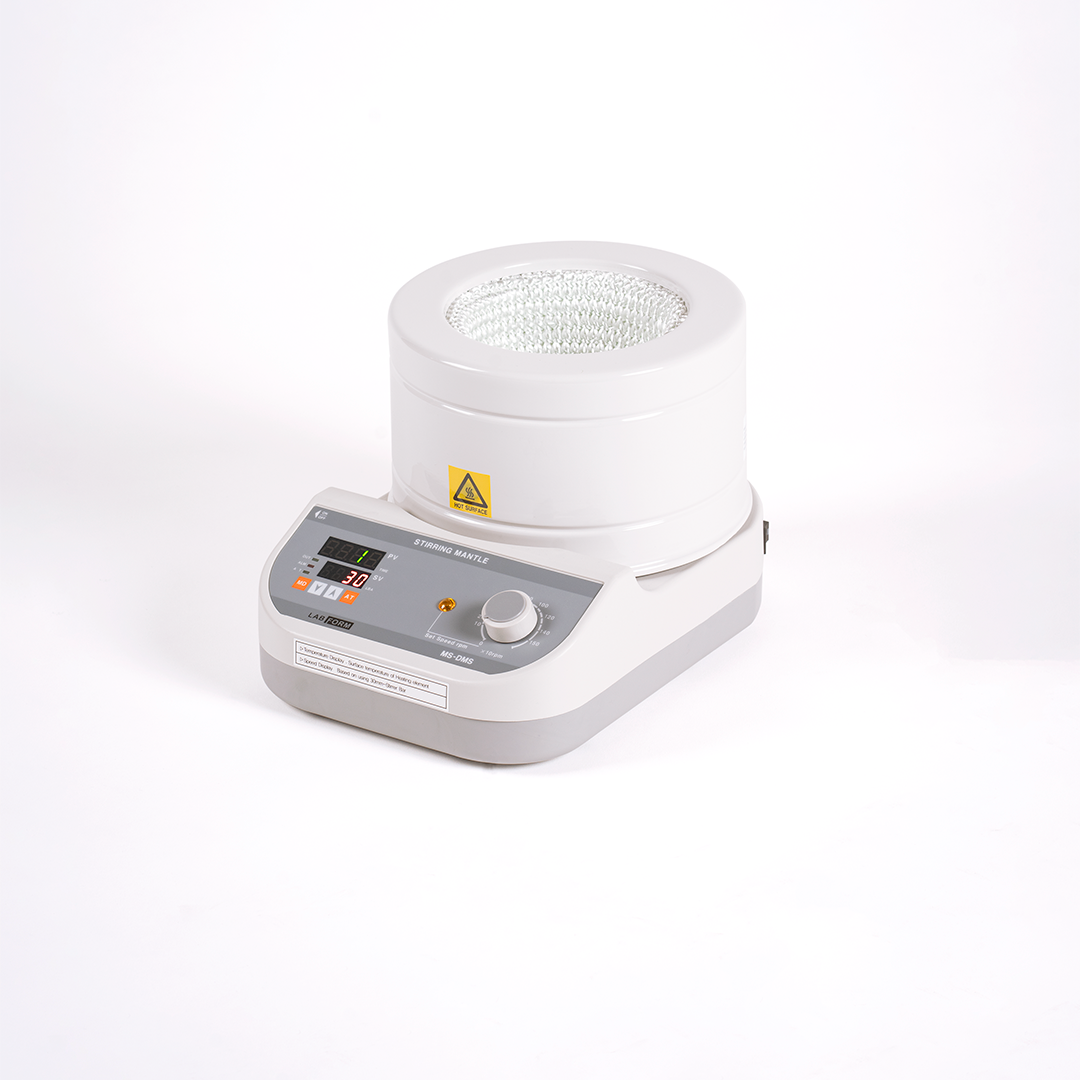 Heating Mantles
DMS
Heating mantles are used in place of Bunsen burners and hot plates to safely heat liquids contained within a flask or beaker, without the risk of the glassware cracking or shattering, or the substance within exploding.
Overview
Heating mantles offer a convenient and safe way to heat laboratory beakers and flasks in the laboratory as they can be easily adjusted to provide precise temperature control and they protect the operator from direct contact with hot surfaces.
Unlike Bunsen burners and hot plates where the heat is direct, heating mantles contain an insulated element so you get the heat but without the direct contact. This is ideal particularly when the sample is organic. When organic liquids are heated it's not uncommon for them to burst into flames if they come into contact with direct heat. They can produce flammable vapours which are heavier than air, causing them to explode when combined with heating coils or open flames.
These lightweight heating mantles make it much safer to heat organic liquids and are constructed from powder coated aluminium with moulded polypropylene for the control panel. Liquids and materials are heated by an element which is built into ceramic fibre. Offered in a choice of sizes and specifications, you're sure to find just what you're looking for. Heating mantles are commonly used in chemical reactions, distillations, and warming or melting materials.
Thermoline has a range of heating mantles models available to suit roundround-bottomks or beakers. They are available with digital temperature control and a turn dial for the in-built stirring function. Max temperature range from ambient +5°C to 450°C. Under laboratory conditions, if you're heating organic liquids then a heating mantle is an essential item of equipment.
Technical Data
Brand

Labform

Capacity

250ml - 2000ml

Models Available

Six

Temperature Range

Ambient +5°C to +450°C

Electrical

230V

Speed Range

100 - 1500rpm
Support
At Thermoline, we strive to supply helpful customer support to ensure that you get the most out of our products. We are committed to providing whatever support our customers need, wherever they are in the world. If you can't find your solution in the below FAQs or Knowledge Base, please contact our friendly support team.
What is a Heating Mantle?

A heating mantle, as the name suggests, is a piece of equipment used in chemistry & biology laboratories for heating and stirring operations. The equipment precisely fits the boiling and distillation flask with a round bottom providing consistent and controllable heating. Using a heating mantle is a relatively safe way for heating organic liquids. Organic liquids have a tendency to burst when exposed to direct heat. A mantle avoids such dangers with its enclosed heating systems.

What types of Heating Mantles are available?

Thermoline has two types of heating mantle: to suit round bottom flasks and to suit flat bottom beakers.

Do heating mantles have stirring?

Yes, the heating mantles supplied by Thermoline have stirring via an internal motor that spins a magnet below the mantle. In turn, by placing a stirring bar inside your beaker or flask, you can create the stirring action and adjust the speed to suit.

What sizes are available?

The most common sizes are 250ml, 500ml, 1000ml and 2000ml but please ask us for other sizes if you need something smaller or larger. We can supply mantles up to 5000ml capacity.