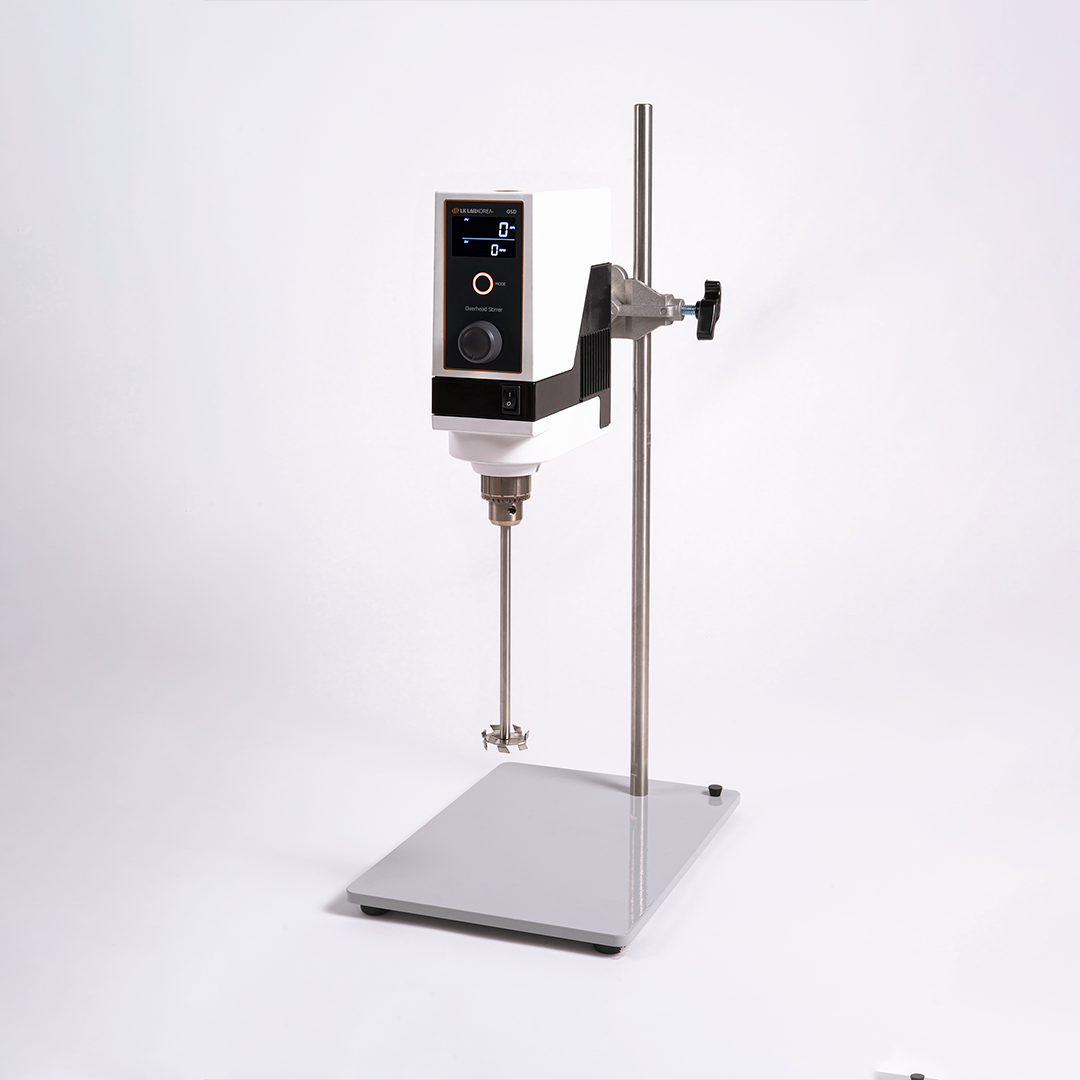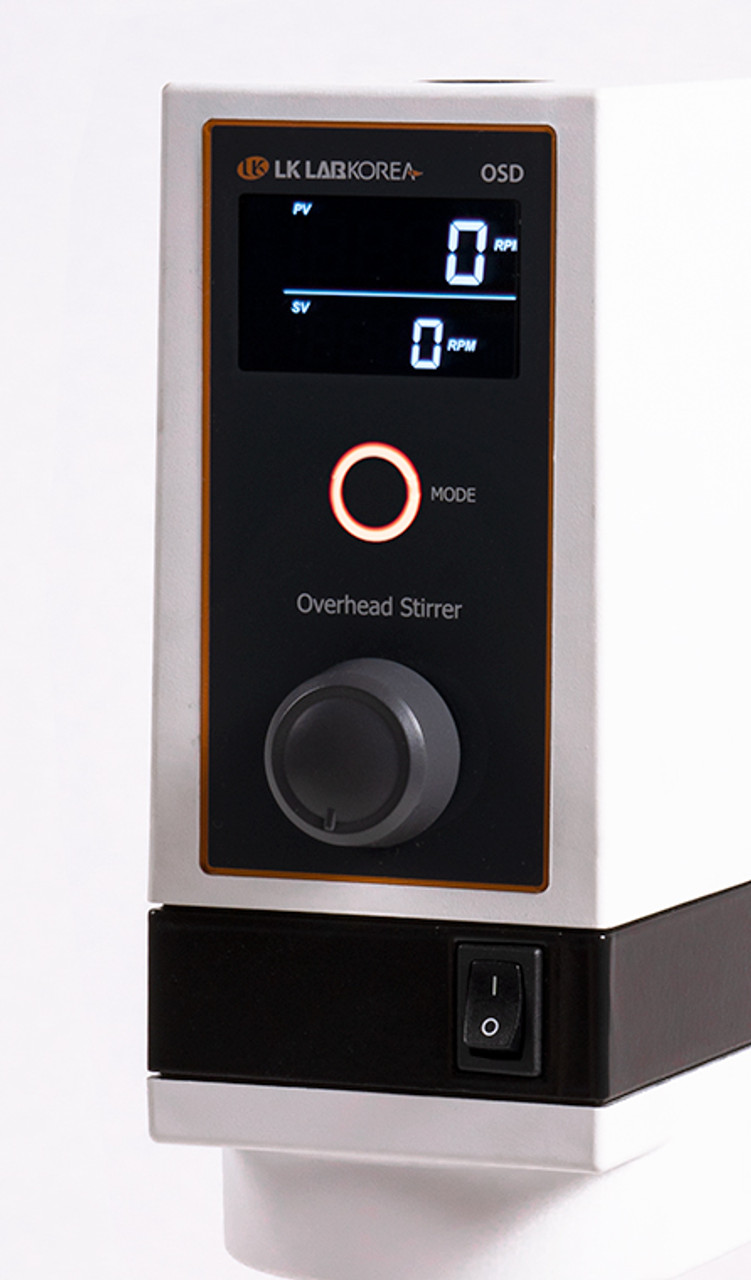 Digital Overhead Stirrer
OSD
These overhead stirrers are powerful, economic and easy to operate. They offer a steady and constant stirring speed via a digital control.
All models supplied with powerful DC motors which are quiet and require no maintenance. Various stirring shafts are available.
Overview
This overhead stirrer is perfect for applications that require smooth and consistent stirring. The model boasts a Digital Feedback Controller, which provides precise RPM control, an easy-to-use jog dial switch for RPM adjustments, and a backlit LCD screen with excellent visibility. Additionally, this model features a screw shaft chuck that makes it effortless to switch between stirring shafts.
Other impressive features include a Slow Start/Stop function to prevent sample splashing, a chromium coating for rust-free long-term use, and an adjustable impeller height. Its slim and compact design ensures high space efficiency, while the motor overheating prevention feature ensures safety during use.
The product components include the main stirrer, a support base with rod and clamp (Plate base 200 x 315 and rod 800mm), and a propeller stirring shaft (propeller or diamond type). The OSD-10 model has a capacity of 25 liters of water, can handle up to 70,000 mPas of viscosity, and has a maximum torque of 200 Ncm. The speed range is between 100 and 2000 rpm, and the material is made of ABS and aluminum. The maximum impeller shaft diameter is 10mm, and the display is a digital LCD with backlight.
A timer function is also included, which allows for a maximum of 99 hours and 59 minutes of stirring. The stirrer also features overload and heat protection for the motor, ensuring safe and reliable use.
Technical Data
Brand

LK Lab

Capacity

25L (water)

Electrical

0.5A/230V

Speed Range

100 - 2000rpm
Support
At Thermoline, we strive to supply helpful customer support to ensure that you get the most out of our products. We are committed to providing whatever support our customers need, wherever they are in the world. If you can't find your solution in the below FAQs or Knowledge Base, please contact our friendly support team.
What is the difference between an overhead stirrer and homogenizer?

The main difference between a stirrer and a homogenizer is their purpose and operating mechanism. Stirrers are used to mix liquids, while homogenizers disrupt and homogenize biological samples. Stirrers typically use a rotating blade to create a vortex that stirs the liquid, while homogenizers use mechanical force to break down cell membranes and create a uniform mixture of the sample.

What is an overhead stirrer?

A laboratory overhead stirrer is a motorised instrument used to mix and stir large volumes of liquid samples in laboratory settings. It consists of a unit mounted on a stand or a laboratory bench, and a stirring rod or impeller attached to the motor unit.

The motor unit of an overhead stirrer typically has variable speed controls, which allow the user to adjust the speed and torque of the stirring rod or impeller. Depending on the sample being stirred, the stirring rod or impeller can be made of different materials, such as stainless steel or PTFE.

Overhead stirrers are commonly used in chemistry, biology, and other scientific fields that require mixing large volumes of liquid samples. They are particularly useful in applications with a high degree of homogeneity, such as in preparing emulsions, suspensions, and solutions. They can also be used in applications requiring precise control of the stirring process, such as in mixing highly viscous materials or in processes requiring a specific mixing speed or duration.

What is an overhead stirrer used for?

An overhead stirrer is a laboratory device used to mix or stir liquids, suspensions, and viscous materials. It is typically used in scientific research, chemical analysis, and industrial production processes where thorough mixing and uniformity are required.

The overhead stirrer is designed with a motor-driven shaft that rotates an impeller or mixing blade suspended above the liquid being mixed. The stirring blade can be customised to suit the particular application and can be made of various materials including stainless steel, plastic, and PTFE (polytetrafluoroethylene) for use with corrosive or aggressive substances.