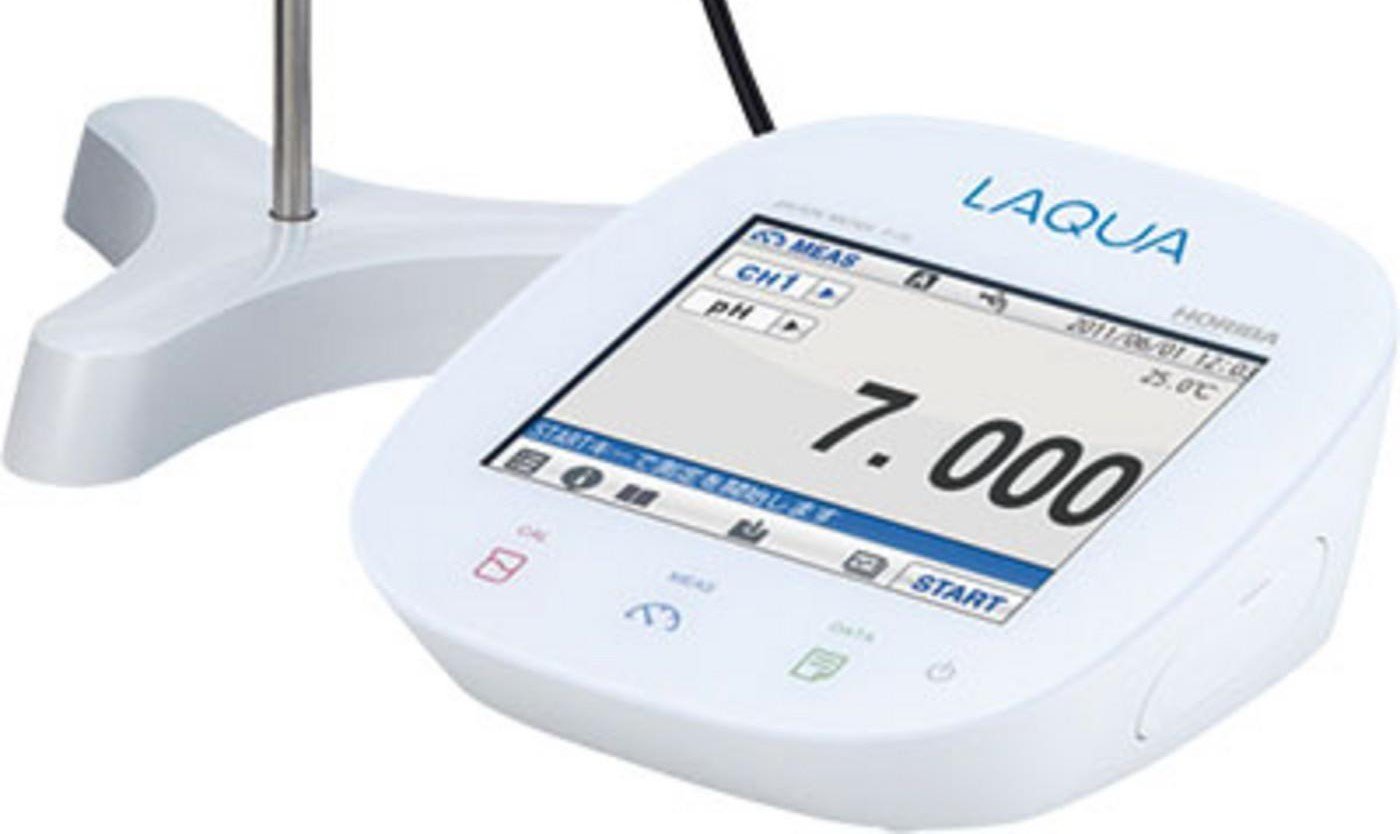 Benchtop Water Quality Meter
LAQUA
The Horiba LAQUA benchtop water quality meters is a fantastic addition to your lab. The LAQUA series marries advanced technology with a stylish design and an easy-to-use touchscreen interface.
The series was developed as durable meters offering long-term reliability for laboratory professionals. Advanced functionalities and a wide array of electrodes provide high-precision measurement with improved response time in a huge variety of applications.
Overview
Stress-free measurement with intuitive and very easy-to-use touch panel operation
Water quality analysis is repeatedly performed in laboratories on a daily basis. Our high-end benchtop model was developed to provide simplicity with excellent on-site usability - from operation and maintenance through to troubleshooting.
Inspection Navigation
Easy navigation for the main unit and electrode inspections.
Various industrial standards (JIS, USP, EP, JP, CP) are also supported.
Troubleshooting Navigation
Reliable on-screen support if a problem occurs during calibration or measurement.
The software has a user guide to resolve any operational difficulties.
Application Functions
Various industry-standard methods are supported, from measurement to result output.
Conductivity measurements for pharmaceutical pure water guidelines of various countries are also supported.
Functions
Easy navigation for the main unit and electrode inspections.
Two channels can be displayed simultaneously
Periodic inspection mode JIS/Pharmacopeias/Digital Simulator
Full support for various country pharmaceutical pure water guidelines
Customizable auto-hold function for calibration and measurement
Simultaneous connection to a GLP/GMP-compatible PC
Digital memory: A maximum of 2,000 sets of measurement data can be recorded
USB-PC communication and USB memory
Multi-language support (Japanese, English, Chinese, Korean)
pH: Yes (supplied)
mV(ORP): Yes
ION: Yes
Conductivity: Yes (supplied)
Resistivity: Yes
Salinity: Yes
TDS: Yes
Navigation function
2-channel measurement
USB flash drive compatible
PC connection compatible (USB)
Printer output compatible (printer sold separately)
Security function
Conductivity measurements stipulated under various countries
This model is supplied with the following:
9615S-10D Standard ToupH, glass-body, refillable pH electrode with built-in temperature sensor
3552-10D Platinum/Platinum black, glass-body, k=1.0 conductivity electrode with built-in temperature sensor
502-S: pH 4.01, 7.00, 10.01 buffers and 3.33 M KCl reference electrolyte (250ml each)
503-S: Conductivity 84 uS/cm, 1413 uS/cm, 12.88 mS/cm, 111.8 mS/cm standard solutions (250ml each)
Technical Data
Brand

Horiba

Electrical

0.5A/230V
Support
At Thermoline, we strive to supply helpful customer support to ensure that you get the most out of our products. We are committed to providing whatever support our customers need, wherever they are in the world. If you can't find your solution in the below FAQs or Knowledge Base, please contact our friendly support team.
What are five parameters for water quality?

Many parameters can be used to assess water quality, but here are five common ones:


pH: This measures how acidic or basic the water is essential for aquatic organisms that are sensitive to changes in pH.
Dissolved oxygen (DO): This measures the amount of oxygen in the water, which is important for aquatic organisms that need oxygen to survive.
Salinity: Salinity is the measure of the amount of dissolved salts in water. It is usually expressed in parts per thousand (ppt) or percentage (%). Freshwater from rivers has a salinity value of 0.5ppt or less.
Conductivity: Conductivity is a measure of the ability of water to pass an electrical current. Because dissolved salts and other inorganic chemicals conduct electrical current, conductivity increases as salinity increases..
Total dissolved solids (TDS): This measures the concentration of dissolved inorganic and organic substances in the water, which can affect the taste, colour, and overall quality of the water.

Do you supply spares and accessories?

Yes, Thermoline can supply replacement sensors and standard solutions for all meter types.

Batteries for the pocket meters are CR2032 type and can be purchased locally.