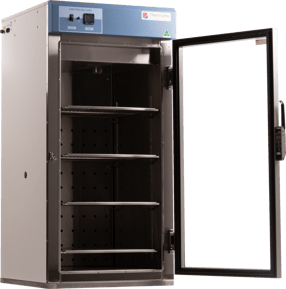 Our Design and Engineering team have been busy at work designing and manufacturing our new range of Laboratory Glassware Drying ovens. These ovens are available in three sizes which are, our TGD-80F 80 litre, TGD-150F 150 litre capacity and TGD-250F 250 litre capacity.
These robust ovens are ideally suited to the efficient drying of laboratory glassware. Our ovens are constructed to maintain temperatures from ambient +10°C to +80°C – with excellent temperature uniformity and stability.

And inside the chamber is just as impressive. The 316 stainless steel liner and stainless steel flat shelves are designed to last even when exposed to moisture and high temperatures.

To keep an eye on what's going on, the toughened glass door allows for quick and easy check-ins.

The digital PID controller offers quick set and forget operation. And with a high air flow rate thanks to the adjustable air inlet and exhaust vents, our ovens remove moist air and supply fresh air for effortless drying.

Designed to efficiently and effectively dry washed laboratory glassware, our oven will help you work faster than ever before. No matter your needs, you can be sure of our oven's efficiency, ease of use and safety.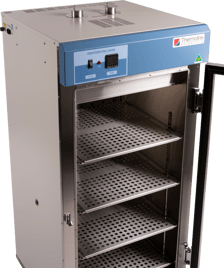 View our range via the following link: https://www.thermoline.com.au/product/glassware-drying-oven