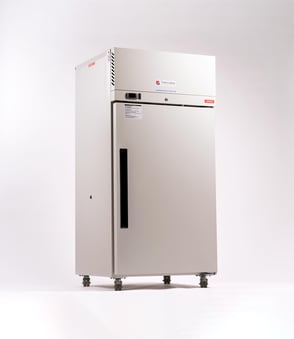 At Thermoline, we understand the the significance of the precious and often irreplaceable biological samples labs and healthcare facilities safeguard. That is why our lab freezers are designed and engineered to provide exceptional performance tailored to your application and laboratory necessities.
Select from our range of Australian Made freezers that are specifically designed for the samples you store, ensuring that your valuable specimens are preserved with the utmost care.
Thermoline has designed three -30°C premium freezers suitable for large capacity bulk storage. These models are all available with solid doors and are ideal for long or short term storage of laboratory products and samples.
Internal forced air flow ensures an even spatial uniformity and the bright LED controller has both temperature logging and high/low alarms. An incorporated BMS allows for remote monitoring of alarms and power loss.
Thermoline laboratory freezers are purposefully designed to meet the rigorous demands of laboratory and healthcare settings while accommodating the various samples stored at temperatures ranging from −20°C to −30°C, such as pharmaceutical, biological, and other commonly used laboratory materials.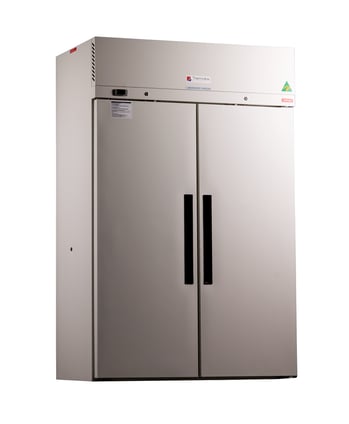 To ensure the safe storage of delicate substances like antibodies and cell cultures, Thermoline laboratory appliances come with precise controls and built-in alarm systems. BMS voltage-free contacts facilitate remote monitoring of power loss and low and high-temperature alarms, and a simple port hole in the side wall allows for easy reference monitoring with a cable or sensor.
The freezers come equipped with an automatic defrost system that intermittently applies heat to the cooling evaporator, causing the frost to melt away. The auto-defrost feature means no more messy defrosting during critical times, and optional chart recorders can be fitted for accurate performance monitoring.
For added peace of mind, these high-quality Australian Made laboratory freezers feature sturdy self-closing doors with key locks, adjustable/removable shelves, and castors for easy movement. At Thermoline, we recognise the unique challenges that labs and healthcare facilities face, and we value the importance of the precious and often irreplaceable biological samples you store.