Thermoline has specially developed pharmacy and vaccine refrigerators suitable for retail pharmacies, medical centres, universities, hospitals and veterinary hospitals where pharmacy and/or vaccine products are required to be stored safely.
Our complete range includes four economy models and five larger Australian made premium models available up to 1500 litres in capacity for increased storage requirements. Temperature is precisely controlled electronically at +5°C in an ambient up to 32°C. The digital display incorporates high (+8°C) and low (+2°C) temperature alarms as well as a door ajar alarm, which emit visual and audible signals to notify the operator when an alarm has been activated. Connection to a building management system (BMS) is standard across all models.
Our refrigerators are registered Class I Medical Devices and comply to Federal Legislation requiring all medical devices be registered in the ARTG. Thermoline pharmacy cabinets comply to AS85000: Quality Care Pharmacy Standard and are registered in the ARTG, 299070
How is your pharmacy storing valuable vaccines?
Vaccines are delicate biological substances that can become less effective or destroyed if they are either:
frozen
allowed to get too warm, or
exposed to direct sunlight or UV light, including fluorescent light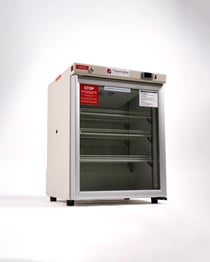 When vaccines are repeatedly exposed to temperatures outside the +2°C to +8°C range, the loss of potency is cumulative and cannot be reversed. Thermoline purpose-built vaccine refrigerators are important because they prevent these damaging events from occurring and therefore keep valuable and often life saving vaccines effective to use.
Domestic refrigerators are not recommended for vaccine storage as they do not incorporate sufficient safety features and often have wide fluctuating temperature ranges which damage valuable vaccines.
Does your pharmacy need an approved pharmacy vaccine refrigerator?
View our complete range via the following link: https://www.thermoline.com.au/category/pharmacy-vaccine-refrigerators