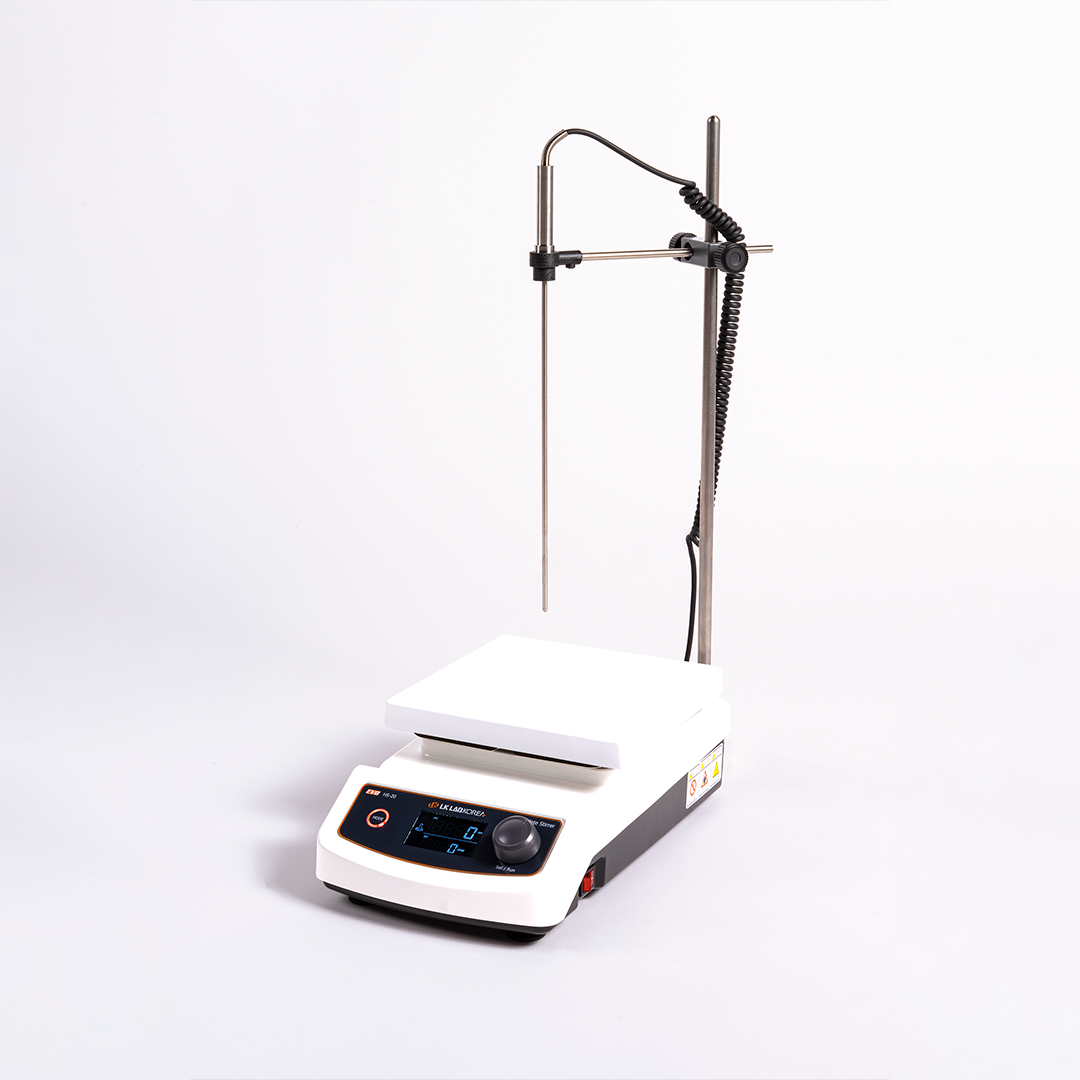 Digital Hotplate Stirrer
HS-20
Our range of hotplates and magnetic stirrers have been carefully selected for their durability and dependability.
The external sensor set allows the controller to measure the liquid temperature inside a beaker or flask, rather than just the hotplate surface temperature. This sensor ultimately gives greater control of sample temperature.
Overview
With a wide range of digital models available, we have something for every task. Offered in a variety of styles and sizes, our lightweight, easy-to-use magnetic stirrers are suitable for general laboratory use when routinely mixing applications.
The Digital Laboratory Hotplate with Magnetic Stirring is an excellent choice for testing applications that require both heating and stirring. These hotplate stirrers feature a ceramic-coated heating plate that effectively heats the entire plate surface.
This model also includes an external sensor set that allows the controller to measure the liquid temperature inside a beaker or flask, providing greater control over the sample temperature. The digital feedback provides accurate temperature control, and a jog dial switch makes it easy to set RPM values. The backlight LCD provides easy-to-monitor parameters, and a timer function is included for up to 99hr 59min. Safety is ensured with an over temperature protection feature.
The ceramic-coated top plate is chemical resistant and easy to clean, making it a reliable and convenient choice for laboratory use. Magnetic stirring is smooth and quiet with a soft start to avoid splashing.
The entire kit includes the main hotplate, an external sensor, and a sensor support kit consisting of a support rod, holding rod, and rod clamp.
Technical Data
Brand

LK Lab

Capacity

15L (water)

Sizes

180 x 180mm Plate

Temperature Range

Max +380°C

Electrical

1A/230V

Speed Range

80 - 1500rpm
Support
At Thermoline, we strive to supply helpful customer support to ensure that you get the most out of our products. We are committed to providing whatever support our customers need, wherever they are in the world. If you can't find your solution in the below FAQs or Knowledge Base, please contact our friendly support team.
Can you use any type of glass on a hotplate?

No. Make sure the glass being heated is made from heat resistant material, like borosilicates. Soda-lime glass or "soft glass" should not be used on a hot plate since it does not handle temperature changes well. Don't use thick-walled glassware directly on hot plates. It heats unevenly and can shatter or crack

Should I use a ceramic or aluminum top hotplate?

If your process requires temperatures above 300°C, or you'll be using corrosive chemicals, a ceramic top hot plate (sometimes called glass or ceramic glass) is usually needed. Aluminium-topped hot plates do not have the heat or chemical resistance to tolerate these applications.

How do I ensure accurate temperature control?

In applications where precise temperature control is required, a temperature probe is necessary. The probe allows for control of the liquid or sample, not the hotplate surface, giving a more realistic temperature control.

The Thermoline hotplate come with an external sensor probe as part of the kit.